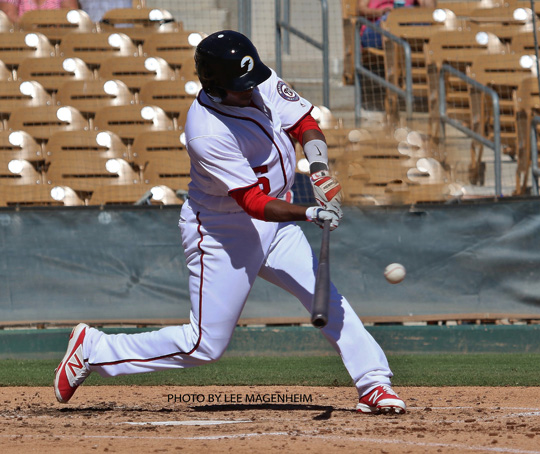 Osvaldo Abreu connected for a two-run double in the 9th (how novel) for 5-4 Desert Dogs walkoff win over the Scorpions.
Abreu (pictured from earlier this week) drove in three total with an RBI single in the 7th and finished the game 2-for-4. He started and batted eighth, but did make an error at shortstop on a missed catch.
To his right (on the field), Drew Ward played third base and and singled twice in four trips to the plate. He was caught stealing and fanned once, but made two assists (Abreu had three).
Two Nats relievers appeared in the game. Ryan Brinley came on with one out in the 5th and retired all five batters he faced over the next inning and 2/3rds, including two by way of the K.
Jake Johansen followed Brinley in the 7th and worked around a two-out single. He was not as fortunate in the 8th, as he loaded the bases with three singles and let in the fourth Surprise run with a sacrifice fly. He finished with a line of one run allowed on four hits over two innings with no walks and two whiffs.
The two teams play again tonight, with Glendale playing host. The Desert Dogs are now 2-1 and are tied for 1st place in the AFL west, percentage points behind the unbeaten (but twice tied) Peoria Javelinas (yeah, that does sound weird).