AFL/Offseason Update: Oct. 5, 2019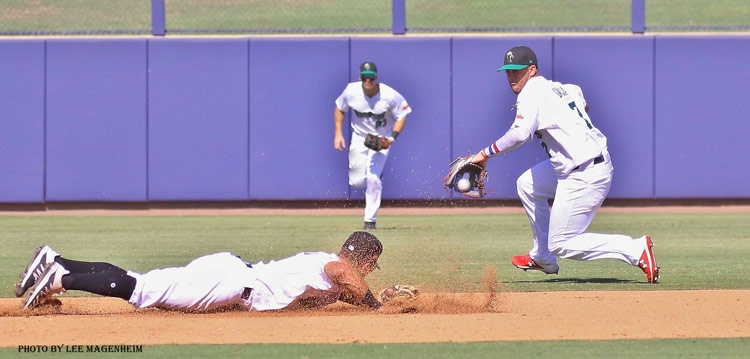 The Sagauros rallied from deficits of 2-0, 4-2, and 5-4 but couldn't push across the equalizer in the 11th and fell to Glendale, 7-6.
Luis Garcia (pictured above) returned to the lineup but went hitless in four at-bats, though he hit a sacrifice fly to force the 11th inning. He had three assists and two putouts and got a glove on three other balls that went for hits or fielder's choices.
Cole Freeman, the only other National position player to appear, scored the final Surprise run in the 11th as a pinch-runner.
Nick Raquet was the sole Washington pitcher to appear. He was the losing pitcher as he gave up the free runner and an and one of his own on two hits in the 11th inning. He threw 24 pitches, 18 for strikes.
The two teams rematch this afternoon in another daytime matchup.
# # #
THE 2019 HAGERSTOWN SUNS
Perhaps not quite as dramatic as the DSL, the Sally League in 2019 saw a sizable gap between the contenders and the also-rans, with both halves featuring three 40+ game winners and only five teams having a winning record overall (with Lexington, the 2019 title team, not among them). The Suns had the misfortunate of playing in the same division as the 90-game winning (.652) Shorebirds which is almost the gap between finishing .500 (which they did in the second half) and their 65-75 overall record as Hagerstown went 8-14 against Delmarva, 57-61 against the rest of the league.
The Suns offense was a shade under the league average (4.06 R/G vs. 4.28) while the pitching was a shade better (4.09). The defense was among the league's best (3rd highest Fld%, 5th fewest errors) while the catchers had the third highest CS%… and second-most passed balls (34, with 26 by Israel Pineda who had more than seven teams). The pitchers and batters were older than the league average by 0.2 years.
Finally, it's worth noting that the 2019 Suns featured not one but two 2019 Draft picks, which represents the first time a position player debuted in full-season ball since 2005 (some guy named Ryan Zimmerman).
TOP 5 BATS
TOP 5 ARMS
1. Jacob Rhinesmith, RF
.248 GPA, 10HR, 67RBI
1. Jackson Rutledge, RHSP
2.30/2.54/0.91, 10.2 K/9IP, 3.6 BB/9
2. Drew Mendoza, 1B
.238 GPA, .377 OBP, 34BB in 55G
2. Matt Cronin, LHRP
0.82/1.99/1.00, 41K in 22IP
3. Gilbert Lara, SS/3B
.234 GPA, .359 OPB, .318 SLG%
3. Alex Troop, LHRP
2.18/2.58/0.76, 0.82 BB/9IP
4. Jackson Cluff, SS
.222 GPA, 63K in 62G
4. Joan Adon, RHSP
3.86/4.25/1.30, 3.8 BB/9IP
5. Justin Connell, LF
.207 GPA, .321 SLG%
5. Jake Irvin, RHSP
3.79/4.13/1.25, 5.13 IP/GS
Truth be told—no, lie to us! lie to us!—after I got past the first two pitchers, I began to regret my decision not to make a single list of seven or eight. Trading away Aaron Fletcher and the obvious decision to rank Tim Cate in the Potomac Top 5's made things tough. Jacob Howell was statistically good, but had the misfortune of my getting to see him in Potomac in August, where he was not good. The same holds true for Francys Peguero. Both have since turned 24, which is old for High-A, never mind Low-A.
An honorable mention goes to Kyle Marinconz, who was bumped by Justin Connell and Gilbert Lara, who were significantly younger (Connell) or who I got to see in person (Lara). A year from now, I am not looking forward to not having that factor to use since I will not be able to go to more than a handful of games in Fredericksburg and may actually end up seeing more games in Frederick, given the option of avoiding 95.
As always, folks who want to peruse the full team stats can find them here, while the pitching data can be found here.