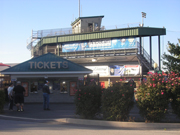 With Opening Day still another week away, the Nationals full-season affiliates in Hagerstown and Potomac have announced stadium upgrades and changes to the fan experience.
In western Maryland, the Suns have announced you can now buy tickets via text and/or mobile devices while going paperless with scannable tickets. New fencing has been installed behind the picnic area while the food stand has been renovated and the menu expanded. View full press release.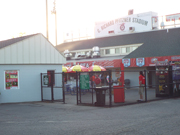 [Disclosure: I am a season-ticket holder] In Woodbridge, the P-Nats have extended the netting behind home plate (presumably replacing the existing netting, but also a reminder that the facility is owned and maintained by Prince William County) which will enhance fan safety and irritate people who believe they can react faster than a professional athlete. New food items have also been added, along with a "Party Zone" on Thursday to Sunday. View full press release.