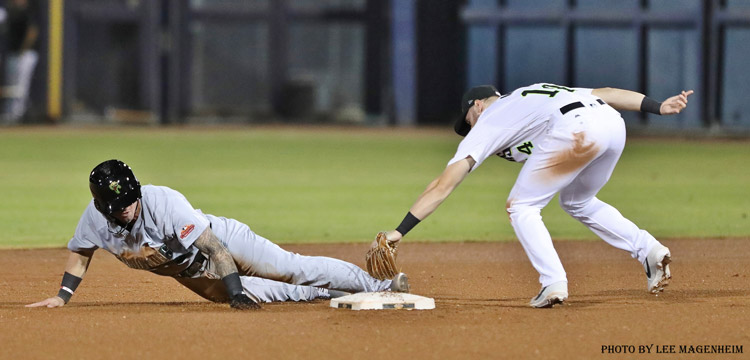 So I went to bed early last night. Did I miss anything?
Narrator: He did not go to bed early and like a donkey in a dress, his ass is dragging this morning.
While there was some drama in the 8th in Peoria, Arizona, it was merely a solo HR by Nick Banks to break up a shutout as the Saguaros fell to the Javelinas, 3-1.
Banks also singled in the 5th and (pictured above) stole second base. He was the DH and batted seventh, whiffing once – one of 16 on the night by the Saguaros, who managed just four hits total and left on three baserunners.
Jakson Reetz and Cole Freeman also started at catcher and in left field, respectively. Reetz went 0-for-2 with a Victor Robles. He was thrown out trying to steal. Freeman struck out twice and went 0-for-4 but fielded both flyballs that went his way.
Sterling Sharp got the start but gave up all three Javelinas runs on four hits and two walks over four innings to take the loss. He threw 60 pitches, 33 for strikes and fanned two.
Andrew Lee was the first man out of the 'pen and despite giving up a hit, faced the minimum for an inning thanks to a 5-3 DP on a liner. He struck out one and threw nine pitches, seven for strikes.
The Saguaros hit the road for a brutal 40-45 minute bus ride to Mesa to face the Solar Sox before an off day tomorrow.