AFL/Offseason Update: Oct. 19, 2019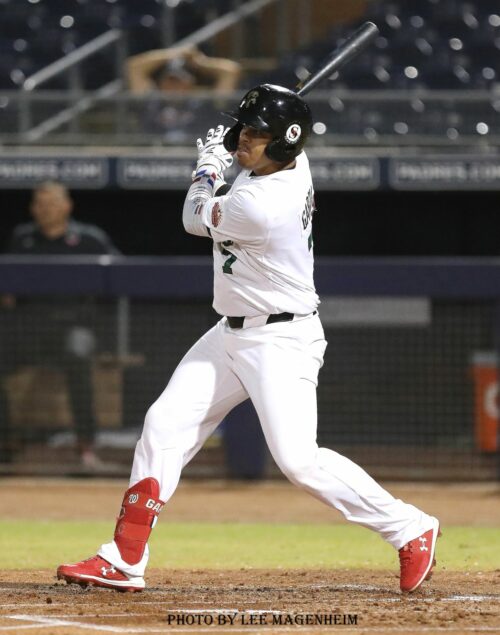 The Desert Dogs couldn't hold a 1-0 lead through seven and a half and instead gave up three in the bottom of the 8th for a 3-1 win by the Saguaros.
Just two Nationals players appeared in the game:
• Luis Garcia started at shortstop and batted second, where he was 1-for-3 with a walk and a run scored. In the field, he had three assists and a putout.
• Cole Freeman batted ninth and played in left field where he fielded the first out of the game for his only defensive chance. He singled with one out in the 5th and was thrown out for the third time. Despite being able to outrun 99% of people reading this today, he has zero stolen bases this fall.
The win lowered Surprise's magic number to three with six games left to play. The Sagauros host the AFL East-leading Rafters in what could be a preview of next Saturday's Championship Game.
# # #
MLB THREATENS MASSIVE CONTRACTION OF MiLB IN 2021
Late yesterday afternoon, the news broke from Baseball America that MLB wants to reduce the number of affiliates to 120, cut the draft to 20 or 25 rounds, and realign the remaining teams.
In an obvious-even-to-a-Trump-supporter move, MLB is throwing minor-leaguers a bone by promising those who remain higher salaries – up to 50 percent according to the stories above. After the 2017 Save Our Pastime Act, the rest of us know that this is like killing one dog* and feeding the other three the dead dog's food. * This is being kind: if the players were treated like most people treat dogs, it would be an improvement.
It's worth noting that last year MLB enjoyed revenues IN EXCESS OF $10 BILLION. That's $10,300,000,000 – and that figure has increased every year since 2003.
So it's curious that MLB would propose pinching pennies, except for the reason that most bullies do what they do: Because they can. As BA noted, this is the most contentious PBA negotiation since 1990-91, which gave birth to both the stadium boom and the independent leagues.
It's hard to envision, though, it playing out the same. Independent baseball has become the Wal-Mart to the Dollar General with collegiate wood-bat leagues, especially in the last 10-12 years. Indeed, MLB appears be suggesting that the contracted teams form a "Dream League" to be something in-between, which could have dramatic ripple effects (recommendation: set it to 1.5x or 2.0x because the speakers talk slower than Forrest Gump after three joints).
Obviously this is an opening salvo by MLB, which has had a lot of success over the last three decades in its negotiations with the MLBPA, and now appears to be emboldened to play hardball with the minor-league owners. MLB appears to want to reduce or shift costs while improving facilities and conditions/pay for minor-leaguers (albeit from shitty to lousy), though the latter is rather clearly a reaction to its ongoing lawsuits. Meanwhile, MiLB would like to keep things as they are.
But the game has changed a lot since 1990, and I suspect that some of these changes will occur. Currently, PDC are seven years while affiliation agreements are two and/or four years. The latter gives MiLB a fair amount of leverage and often results in shotgun marriages (*cough* Fresno *cough*). MLB wants five for the former, and more for the latter but it's not clear how much more. The reasonable compromise might be six and three, but folks smarter than I am might be able to point out some flaws in that arrangement.
What I'm nearly positive will happen is more revenue sharing. MLB has to feel like it's not getting its fair share from folks like us going to see the players that they pay (albeit very, very poorly). Since 1990, MiLB has paid a "ticket tax" to MLB – something to remember when a MASN commenter says minor-leaguers don't contribute to the aforementioned $10.3B. It seems obvious that even in the nuclear option that MLB just proposed, that tax will go up (and will be passed along to folks like you and me).
What should also happen is geographical realignment. As we know all too well, AAA and Low-A have two leagues while High-A and AA have three apiece. It doesn't take a rocket surgeon to figure out that perhaps the PCL should split into two eight-team leagues. But it might take one to figure out realign Low-A.
MLB's contraction proposal isn't terribly clear about the shakeout between SS-A and Low-A – Sally Lg. goes from 14 to 6, the Northwest League goes from short-season to full-season. Which eight teams get the ax? Or will some NYPL or Appy League teams also become full-season teams? Should there be perhaps one or two more leagues created?
BA is reporting that MLB and MiLB have suspended negotiations in October and will resume talks next month. This offseason, which appeared to have nothing much to talk about in November, just got more interesting.