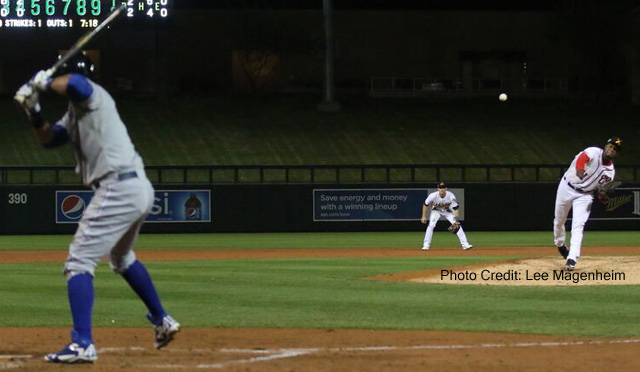 Last night was the AFL Fall Stars Game, which saw the West defeat the East, 8-3. Surprise: Abel De Los Santos (pictured above) did appear. Not a surprise: He was touched for a run on two hits and was the losing pitcher.
For those wondering, winter league updates might not be a staple post this offseason given how few Nats farmhands are playing. Nevertheless, here's a quick rundown on the non-AFL guys:
Paolo Espino – VWL 1-2, 4.50ERA, 1.46WHIP; 26IP, 27H, 16R, 13ER, 11BB, 22K, 3HR
Reegie Corona – VWL .157/.271/.216, 0HR, 2RBI, 1SB in 15G, 51AB
Brian Goodwin – VWL .222/.300/.389, 1HR, 6RBI, 2SB in 9G, 36AB
Rafael Bautista – DWL .415/.466/.528, 10R, 4RBI, 2SB in 15G, 53AB
Pedro Severino – DWL .265/.265/.529, 2HR, 4RBI, 0SB in 11G, 34AB
Jose Lozada – DWL .476/.500/.619, 0HR, 3RBI, 1SB in 6G, 21AB
Back to the AFL… second-place Salt River has ten games remaining and will rematch against first-place Scottsdale tomorrow on the road. If the rotation holds, John Simms will most likely next pitch on Wednesday.