AFL/Offseason Update: Oct. 21, 2017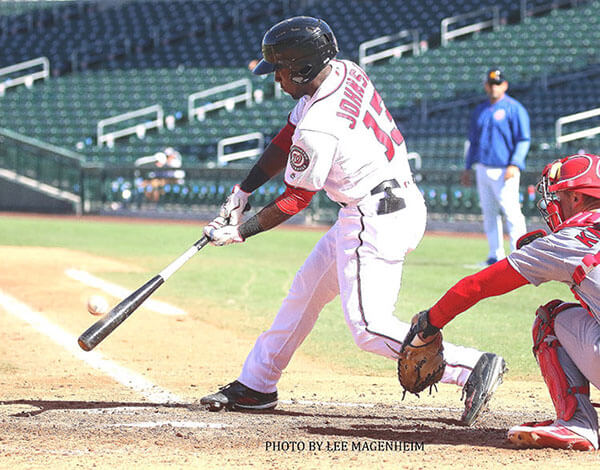 Daniel Johnson's third hit in as many at-bats started the Solar Sox's four-run rally to erase a 6-2 deficit to and walk off with a 7-6 win over the Saguaros.
Johnson also doubled in the 6th and singled in the 7th to finish 3-for-5 and raise expectations and scored twice. Defensively, he made just a single putout in left field.
Austen Williams was the only other National to appear in the game. He was the first man out of the Mesa 'pen but after a scoreless 5th, he was dinged for a 430' shot to left-center in the 6th and another solo shot in the 7th before he was lifted with two outs.
Williams gave up three hits total but struck out four over his two and 2/3rds innings of work.
Mesa returns to action with a Monday night game against Scottsdale.
# # #
SYRACUSE CHIEFS SALE PRICE REVEALED
While this may not concern us for much longer, it is interesting to note what the Mets have offered for the Syracuse Chiefs: $18 million, which works out to about $1,400 per share. Not bad for some of the folks who bought them at $10 per. The upshot is that it's difficult to believe that the Potomac Nationals, who do not have a lease for an NAPBL-compliant facility, are worth $20 million as was claimed during the latest windmill tilt this past summer.
THE POTOMAC NATIONALS
Most of the drama was off the field—for those wondering, the resolution is yet another waiver—as the P-Nats on the field were, to be blunt, a disappointment.
Even with Victor Robles and Daniel Johnson atop the lineup, the team had difficulty scoring (4.07 R/G) because there were lots of hot streaks but few of them were concurrent. Taylor Gushue, Kelvin Gutierrez, and Edwin Lora were all scorching the ball in April but then cooled considerably by mid-May, with Lora the most extreme flash-freeze as he went from a .362/.451/.551 April to .186/.226/.237 August. Only Gutierrez ever showed any signs of breaking out of his funk, but his roll was slowed by an ankle injury that took him out of the lineup from June 9 to August 21.
On the mound, the team boasted of an all-Dominican rotation that purported to boast of the team's post-Smiley success but quickly turned into an MBA-like exercise of trying to squeeze some ROI out of a sunk cost. There were flashes of brilliance from Joan Baez and Jefry Rodriguez, which turned out to be chemically aided in the latter, and Wirkin Estevez did make the jump to AA (as he should have at the age of 25), but watching Luis Reyes and Hector Silvestre pitch was like watching Sisyphus and the boulder.
Perhaps more maddening was the organization's insistence on signing washed-up pitchers to plug the holes caused by injuries. It's one thing to go for a free agent to avoid having to make a social promotion from Hagerstown, but quite another to get a pitcher who is out of work after mid-May (read: not even good enough for the independent leagues). It's what detectives might call a clue.
Thanks in large part to semi-decent relief pitching and older southpaws (Matt Crownover, Grant Borne) the team actually had slightly better than league-average pitching (4.21 vs. 4.26 R/G).
Like Auburn, it's just a single, unranked list of players instead of a Top 5 list…
| | |
| --- | --- |
| Joan Baez, RHSP | 3-1, 1.88 ERA, 1.19 WHIP in August |
| Grant Borne, LHSP | 2.50/3.01/1.10 in 14G, 10GS |
| Kelvin Gutierrez, 3B | .288/.347/.414, 2HR, 3SB in 58G |
| Jakson Reetz, C | .236/.327/.371, .986 FA, 39%CS rate |
| Victor Robles, CF | .289/.377/.495, 17HBP, 16SB in 77G |
…but I'm reasonably certain there's no debate as to who would be #1.
As always, folks who would like to see the full team stats can find them here.