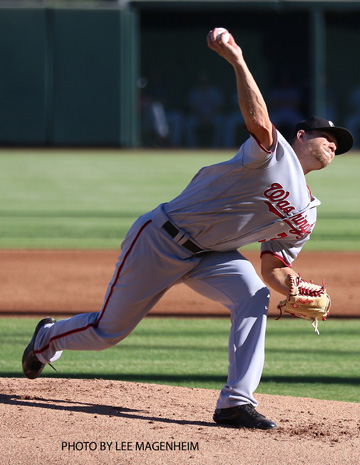 Led by Austin Voth, five Desert Dog pitchers combined on a six-hit shutout of the Rafters, 10-0.
Voth pitched the first five innings and allowed just three hits, no walks, and struck out three to lower his fall ERA to 6.20 even his AFL record at 2-2. He threw 74 pitches, 49 for strikes.
Three Nationals position players got the start.
Andrew Stevenson batted leadoff and played CF. He went 1-for-5 and had three putouts on defense.
Drew Ward was the cleanup man and reached base three times with a double, single, and a walk. He scored three runs and made a pair of 5-3 plays in the field.
Osvaldo Abreu batted eighth and drove in three with a two-run single and a sacrifice fly while going 1-for-4 overall. Defensively, he turned a double play and had four assists total.
Glendale hosts Surprise this afternoon and remains 1½ games behind Peoria in the AFL West.