AFL/Offseason Update: Oct. 22, 2022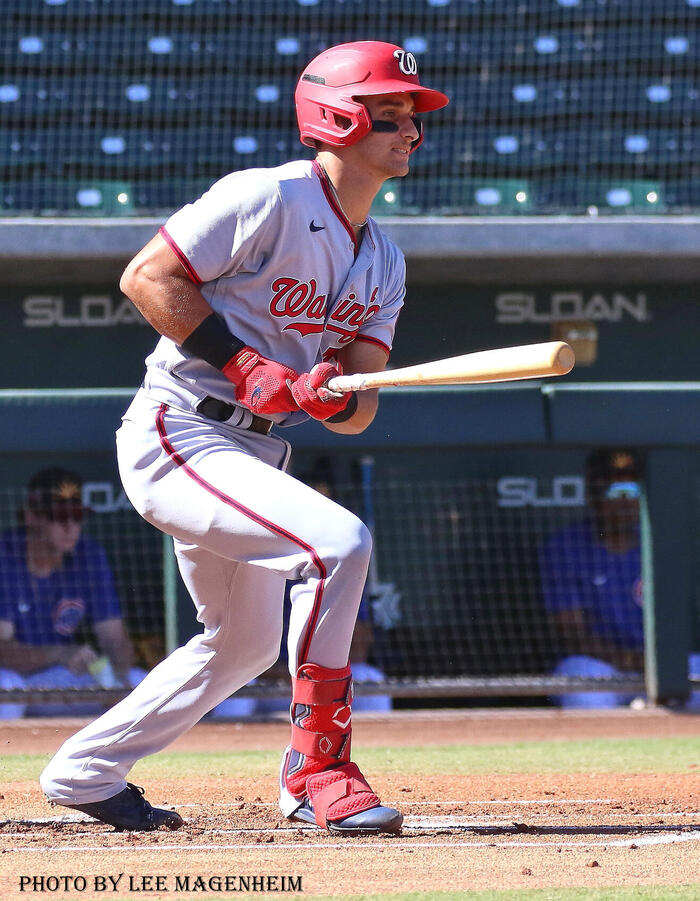 It was a very light afternoon for the #Nats in Peoria's 4-0 win in seven innings.
Drew Millas was the sole National to appear, going 0-for-3 with a strikeout from the cleanup spot as the Javelinas' designated hitter.
Peoria (8-9) travels to Phoenix Municipal Stadium to play Salt River (6-11).
# # #
2022 FREDERICKSBURG NATIONALS
This is the apex for the 2022 season reviews, as this group of ~60 players (excluding rehabs) represents "the coming thing," that we're all here for.
Truth be told, a concept that confuses Trump supporters, even a .500 season with a pair of third-place finishes would have been an improvement over 2021. Instead, they got one of those that was two games short of the cut and a second half that won the division by 7½ games. The total regular season record was 75-55 – a far cry from last year's 44-76 mark.
The offense was the hallmark of the FredNats all season long, as the team was nearly an entire run over the league average (5.95 vs. 5.01) and led the league in runs scored and RBI. Curiously, they did not lead the league in any other offensive categories, including nose hairs. Unless you want to count SB%, which they were successful 85.77% of the time.
Early on, the story was Brady House, who picked up where he left off in the '21 FCL and posted an .895 OPS in April. Then he went on the I.L. in early May with… wait for it… an undisclosed injury and stopped hitting (.539 OPS) and then went on the I.L. for good on June 23 for what has been described (vaguely, as usual) as a back injury.
While this was not a surprise—Nats prospects turning up hurt are like blondes in L.A.— several others did surprise. Jeremy De La Rosa, who earned a midseason promotion to Wilmington, and Jacob Young, who stole the most bases in a season since Rafael Bautista just to name two.
An influx of talent from another fire sale also paid dividends, as well as Will Frizzell emergining from witness protection to lead the team in OPS, albeit over just 34 games, with 11HR and 44RBI.
On the mound, the abundance of offense helped mask the likes of Bryan Caceres, Andry Lara, and Jackson Rutledge, who combined for 65 starts and nearly 6 runs allowed per 9 innings pitched. They were also offset by Dustin Saenz, Andrew Alvarez, and Rodney Theophile, who were all promoted to Wilmington (and did poorly…shhh), as well as a bevy of above-average relievers.
Overall, the hitters were older than Lg. Avg. (21.3 vs. 20.6) with four teenagers combining for 158 games offset by six 24-year-olds playing in 154 games. The pitchers were just a shade older (22.0 vs. 21.7), which was largely a function of Lara pitching 100+ innings. Defensively, the team was vastly improved, finishing fifth in the league with a .970 FPct., allowing the fewest passed balls and stolen bases, and was in a four-way tie for the fewest errors committed (136 in 130G).
While the team fell flat in the playoffs, losing the CLDS 2-1 with only one home game and the bats falling silent, it was overall a memorable season.
Picking the Top 5's here is harder than usual, especially given how few players played in more than half of the team's games (just eight) or how badly the starts pitched as a group vs. the relievers. But with some obvious caveats and exceptions, here goes…
TOP 5 BATS
TOP 5 ARMS
1. Jeremy De La Rosa, OF
.304 GPA, .394 OBP, 10HR, 26SB, 7E in 69G
1. Rodney Theophile, RHSP
1.29/2.57/0.88, 11.47 K/9IP
2. James Wood, OF
.280 GPA, .366 OBP, ,463 SLG in 21G
2. Cody Greenhill, RHRP
2.93/3.36/0.93, 14.44 K/9IP
3. T.J. White, OF
.267 GPA, 11HR, 52RBI, 44BB in 92G
3. Marlon Perez, LHRP
3.46/3.37/1.01, 7.26 K/9
4. Branden Boissiere, 1B
.249 GPA, .366 OBP in 100G
4. Andrew Alvarez, LHP
4.53/3.31/1.44, 11.64 K/9IP, 2.9 BB/9
5. Jacob Young, OF
.245 GPA, 52 SB, 7 CS in 115G, 0E in 532 Def. Inn.
5. Dustin Saenz, LHSP
2.95/3.65/1.18, 3HR in 55IP
Honorable mentions go to Geraldi Diaz, who was repeating the level, and Brendan Collins. As you can see, I didn't hold it against the pitchers who were called up to Wilmington for their performance there. I'm justifying Wood's appearance because his lack of time for the FredNats was not a function of injury or the draft. Once you mentally adjust for the different run-scoring environments of the California League vs. the Carolina League, he was consistent.
And if it's not abundantly clear yet, the lack of talk about Jackson Rutledge and Mason Denaburg is two-fold. While both had their moments, they were also inconsistent. Fair or not, they were either old for the level or repeating it. [Insert remark about incumbency and prospect lists here].
Next year should be an interesting year for the Blue Rocks, but it's probably safe to say the 2023 FredNats will still be a team to watch. You can find the full team stats here, and the pitching data here.