AFL Update: Oct. 12, 2023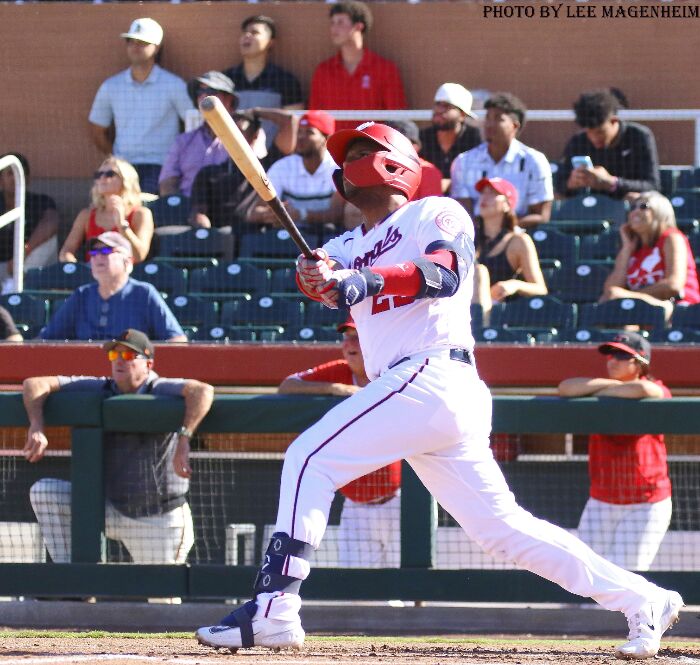 Capped off by an Earl Weaver special off the bat of Israel Pineda (pictured above), the Scorpions jumped out to a 3-0 lead in the 1st, then extended the lead to 5-0 after two innings.
The Solar Sox answered with three in the 3rd, four in the 7th, and one in the 8th to take an 8-5 lead. But Scottsdale got the benefit of sloppy bullpen work as Mesa coughed up two on a homer to bring it to within one at 8-7, issued two walks to load the bases, then wild pitched in the tying run and balked in the gamewinner for a 9-8 win for the Scorpions.
Pineda, who caught the game and batted cleanup, finished at 1-for-5 with a HR, three RBI, and two whiffs. Defensively he had an error and a passed ball.
Four other Nationals appeared in the game:
DJ Herz made his second start but was far less dominant, giving up three runs on five hits and a walk over four innings. He struck out four.
Robert Hassell shifted to CF and batted seventh. He had two singles in four trips to the plate and four putouts in the field.
Trey Lipscomb batted ninth and collected his third single of the fall to get onto the interstate (.125) while notching five assists.
Orlando Ribalta (pictured below) made his third appearance and picked up his second win as he worked around a single in the top of the 9th.
Scottsdale (4-4-1) returns to Glendale (2-7) tonight.