AFL Update: Oct. 11, 2023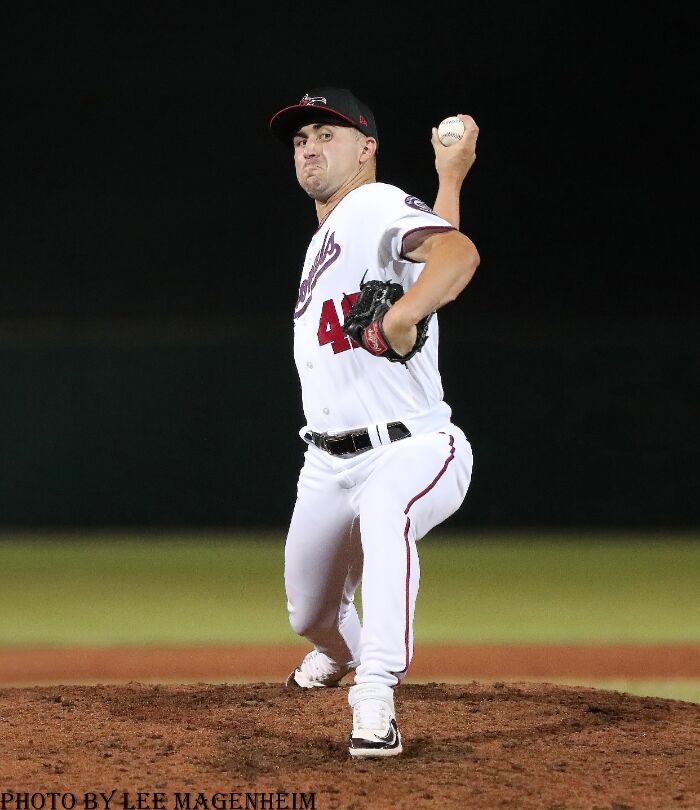 Scottsdale came to bat down 5-0 in the bottom of the 1st and it did not not get much better as Surprise unleashed a 17-5 can of whoop-ass last night.
The game featured five errors, 13 walks, two Robles, and four wild pitches.
Only one National appeared in the game, Holden Powell (pictured) gave his teammates a beer to hold with eight batters faced, two retired, and six runs let in on three hits, three walks, and a wild pitch.
The loss extends the Scorpions' slide to four games and drops them below .500 at 3-4-1.
Scottsdale remains home this afternoon to host Mesa (3-5).



Odds and Ends
A few things I've bookmarked to pass along in case of a rainout or a shutout. I had not considered a blowout…
● MiLB Attendance Up 4% – While still below pre-pandemic levels, minor-league attendance is up year-over-year, with Nationals affiliates seeing gains of 4.0% (Rochester), 5.1% (Fredericksburg), 14.7% (Harrisburg), and 31.7% (Wilmington).
● MiLB Park Factors – There aren't many surprises here. All four full-season ballparks are average (98 or 99 out of 100) for runs scored. The upper 3/4ths are slightly below average for BABIP (96 or 97). The upper 1/2 is above average for HRs – 103 for Rochester, 113 for Harrisburg – and the lower 1/2 is below average: 70 for Wilmington and 89 for Fredericksburg.
● Free Agents – RHP Victor Arano and UT Travis Blankenhorn were both outrighted last week and both elected free agency.