AFL/Offseason Update: Oct. 10, 2023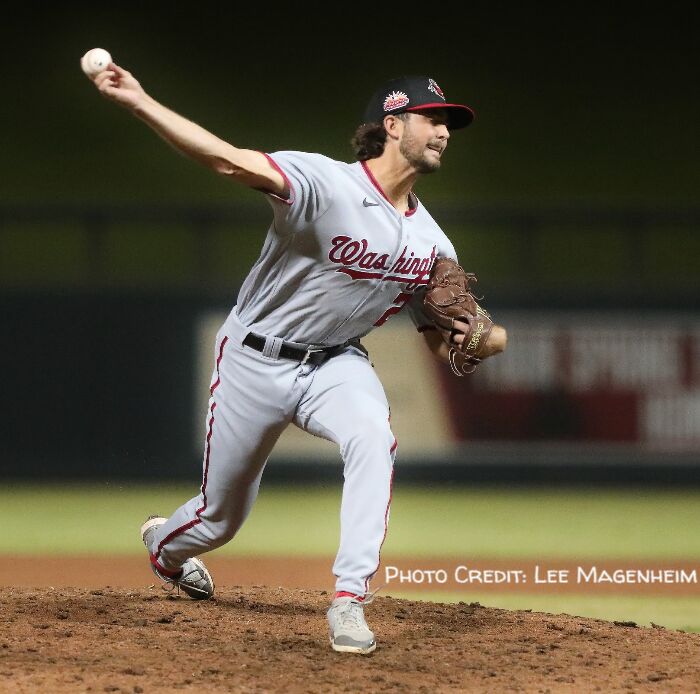 The Scorpions got the tying and winning runs into scoring position with a two-out double steal but couldn't get the clutch hit and fell short, 7-6, to lose their third straight game.
Four Nationals appeared in the game:
Israel Pineda (pictured below) caught the game, batted 5th, and ended his hitless streak with two singles and two RBI in four trips to the plate. No word on why he chose to challenge the 1B coach to a thumb wrestling match 😉
Robert Hassell moved down to 8th in the lineup but stayed in RF. He singled, walked, and drove in two.
Trey Lipscomb was the No. 9 hitter and went 0-for-4 with a run scored. He had a putout and an assist while playing 3B.
Jack Sinclair (pictured above) was roughed up for two runs in the 8th on two hits and two walks. He struck out two.
Scottsdale falls to 3-3-1 with the loss, which ESPN has learned is a .500 record. The Scorpions host the Saguaros tonight in Scottsdale.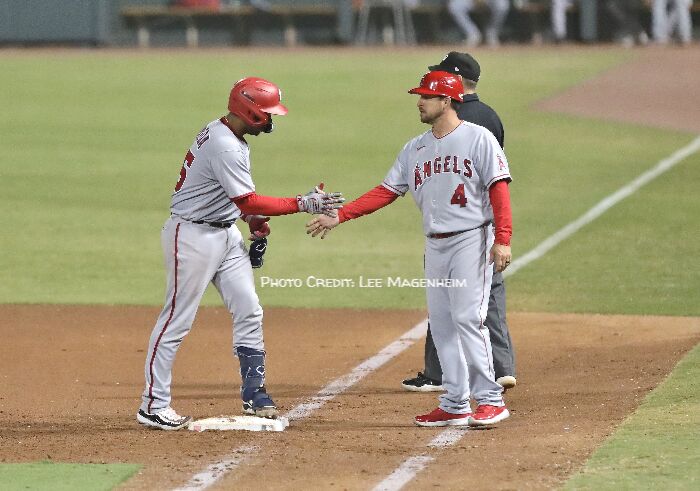 The 2023 DSL Nationals
With all the turmoil and turnover in the front office, it's a fool's errand to make any extrapolations as to what the future holds. We correctly predicted in this space that most of the 2021 team would repeat in 2022 but did not venture to guess that the 2023 team would be so new.
There were just eight holdovers from the 2022 squad. After a DSL-worst 11-39 campaign in 2023, the question that must be begged: Did the Nats give up too soon on some of those guys? Not that there's an acceptable answer to that question. All we have to go on are boxscores, which are only as good as the scorekeeper.
As the old saw goes, if the best thing you can say about a prospect is his age then he probably isn't a prospect. To that end, this past summer's D-Nats "bats" were the second-youngest in the league at 17.2 (vs. 17.7). Offensively, they were the worst (3.19 R/G vs. 5.45).
Conversely, the D-Nats arms were both slightly worse than the norm (5.88 vs. 5.45) and slightly older (18.7 vs. 18.6). As you might imagine with such a young group of position players, the defense was 4th worst in the league (.942 FA vs .956) though just like the '22 backstops, the catchers were above-average at throwing out baserunners (31% vs. 28%) on an average number of steal attempts (124 vs. 119).
As always, we close out with the obligatory Top 5's…
TOP 5 BATS
TOP 5 ARMS
1. 17-y.o. Carlos Batista, OF
.256 GPA, 30SB, 26R
1. 19-y.o. Angel Roman, RHRP
1-1, 2 SV; 3.20/3.44/1.04, 1.6 BB/9IP, 7.3 K/9IP in 27⅓ IP (15G)
2. 17-y.o. Carlos Tavares, 1B
.246 GPA, .986 FA
2. 18-y.o. Angel Pena, RHRP
2-0, 0 SV; 3.07/3.50/1.04, 11.7 K/9IP in 14⅔ IP (9G)
3. 17-y.o. Eikel Joaquin, 2B/3B
.235 GPA, 20E in 44G
3. 17-y.o. Leuris Portorreal, RHSP
1-3, 0 SV; 4.79/4.01/1.37, 2.5 BB/9IP, 7.3 K/9IP in 35⅔ IP (11GS)
4. 17-y.o. Andy Acevedo, CF
.197 GPA, 23SB, 22R in 47G
4. 19-y.o. Ramon Cuevas, RHRP
3.44/4.10/1.24, 2.9 BB/9IP, 7.2 K/9IP in 34 IP (14G)
5. 17-y.o. Jermaine Maricuto, DH/1B/C
.194 GPA, 0 XBH
5. 19-y.o. Reilin Ramirez, RHRP
3.26/4.51/1.58, 5.0 BB/9IP in 30⅓ IP (14G, 5GS)
Obviously, there are no honorable mentions – if anything I prolly should drop this to a single list of five. It's a little disturbing to see so many pitchers averaging less than a strikeout per inning in an era where that's just average. Folks interested in seeing the full team's statistics can find them here.