AFL/Offseason Update: Nov. 5, 2022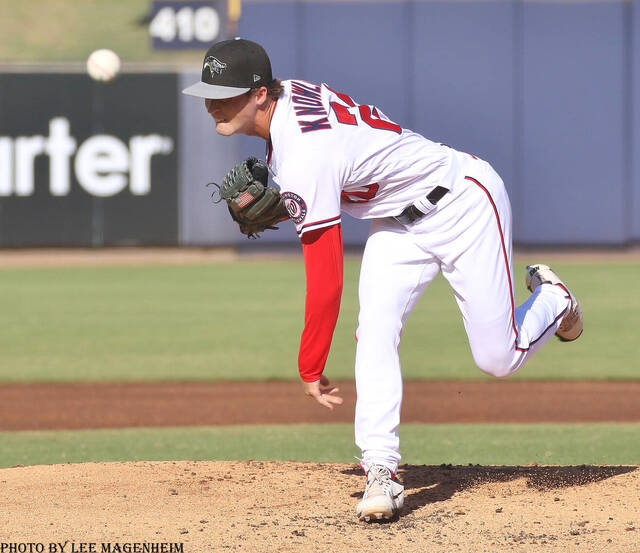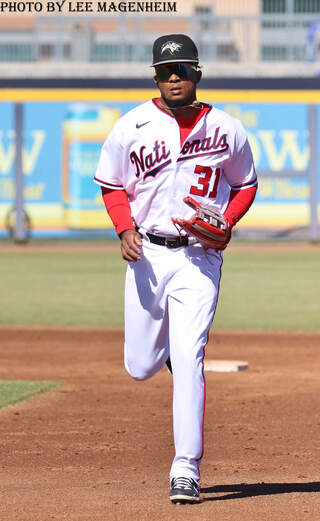 The Javelinas broke out for six runs in the 5th to turn a 2-1 deficit into a 7-2 lead as they cruised to a 14-7 win over the Solar Sox. Three Nationals appeared in the game (no, you do not get credit for guessing Millas):
Drew Millas returned to the lineup as the cleanup batter and the catcher. He walked and scored a run in the 5th, then singled and scored again in the 7th, finishing the game with a 1-for-4 mark. On defense, he threw out Mesa's lone basestealing attempt.
Yasel Antuna (pictured, right/below) went 0-for-3 with a walk, a sacrifice fly, and a run scored. He had one putout in left field.
Lucas Knowles (pictured above) was the first man out of the Peoria 'pen and went three innings. He gave up two runs on two solo homers and five hits total, walking one and striking out three.
The win evens up Peoria's record at 13-13, which puts them in a tie for 2nd place with Scottsdale with three games week to determine the semifinal game next Friday. Surprise (17-11) clinched a spot in the Finals with a win over Salt River (11-16).
Tomorrow is the Fall Stars Game. Two Nationals will be on the National League roster. Still no credit for guessing Millas, and if you've been paying attention, Orlando Ribalta should not be a surprise, either, though I suspect he's replacing Robert Hassell or Darren Baker.
# # #
2022 HARRISBURG SENATORS
The '20s have not been kind to any of us, never mind fans of the Harrisburg Senators. Believe it or not, the 2022 edition was an improvement on the 2021 team, though it the bar to clear was low.
The Senators finished last in runs scored, triples, RBIs, SBs, SFs, OBP, SLG% and total bases. Unlike the 2021 squad, the 2022 pitchers were below average (5.01 R/G vs. 4.70). The one thing that team did do well was defend, finishing second in FPct with a .983 mark and the second-fewest errors.
Unfortunately, both the pitchers and hitters were old – 25.4 for both the arms and the bats vs. 24.5 and 23.8 respectively for the league. Perhaps this will change next season, if enough players from Wilmington are "promoted."
The Harrisburg Eight is now The Six, and that includes a repeat from last season:
Jake Alu, 3B
.281/.360/.470, 9HR in 73G
Zach Brzykcy, RHRP
2-1, 9SV; 1.89/3.41/1.05, 12.79 K/9IP in 32G (38IP)
Justin Connell, OF
.230/.345/.396, 11HR, 38RBI in 96G
Jake Irvin, RHSP
0-4, 0SV; 4.79/3.99/1.17, 2.45 BB/9IP in 15GS (73⅓ IP)
Evan Lee, LHSP
0-3, 0SV; 3.60/3.41/1.33, 11.1 K/9IP in 7GS (30IP)
Alex Troop, LHP
7-5, 0SV; 4.81/4.47/1.29 in 112⅓ IP
3-1, 2.84 ERA, 1.07 WHIP as a reliever
There are no honorable mentions. I will confirm that Troop's inclusion has more to do with his performance as reliever, in addition to his dexterity. Yes, hes had a good run in his first few starts, but then the league figured him out (7.20 ERA in his last eight starts) and he was unable to adjust. My bet is that he'll return to the 'pen unless Rochester is hurting for starters.
For those brave enough, you can see the team statistics here. Pitching data can be found here.