Last Night in Fredericksburg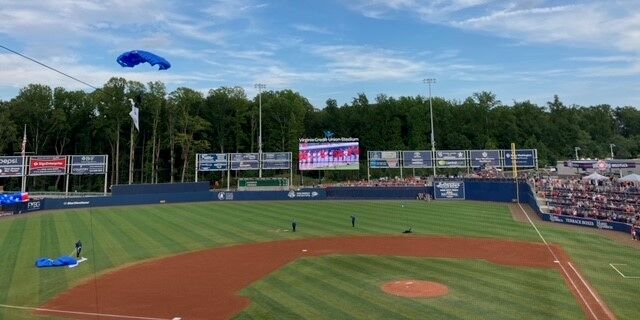 This is Low-A ball, kids. Oh, sure: MLB, since its coup d'état of MiLB in 2021, likes to call it "Single-A"… but we know better.
Low-A is where college guys and the "shorties" learn what it means to play ball six days a week — from April to September. And we're reminded by the defense that isn't quite as good as the hype (looking at you Branden Bossserie).
Saturday night was one of those nights where you got to see it all — good defense (five double plays) and bad defense (three errors). Clutch hitting (two RBIs with two outs) and the "run-scoring flyball" that the late Vin Scully preferred to the sacrifice fly that gets hidden from the RISP mark that we cling to (like wins, ERA, and BA), even if intellectually, we know it's specious. And pitching that was just good enough to win (six hits, six walks, and seven whiffs by Fredericksburg).
Perhaps now I ought to mention that the FredNats took another step towards returning to the Carolina League playoffs for the first time since 2018 with a 5-2 win over the Delmarva Shorebirds.
Very much like a week ago, Mason Denaburg just did not look all that good, considering the rest (six days) and the workload (39IP, including last night). But perhaps more concerning was the lack of velocity.
At first, it looked like the 2018 #1 pick was working on his offspeed stuff: tossing pitched in the mid-70s to low-80s. But when he reached back… it just wasn't there, as Denaburg struggled to break 90mph and mostly hit around 87-89… with no command: He needed 52 pitches to get seven outs.
Kyle Luckham was the first man out of the Fredericksburg's pen, and truth be told (no, lie to us!) the primary difference was command as the Nats' 15th Rd. pick was also underwhelming on the gun (also barely breaking 90), but threw more strikes (TBH, it felt like both sides were suffering from fatigue).
The turning point of the game came in the 7th when Holden Powell "worked on some stuff" to load the bases with two outs. Peyton Glavine forgot he wasn't in high school and went after a popup on the 3B side of foul territory, nearly colliding with C Geraldi Diaz, who probably would have caught the ball to end the inning, which forced 3B Trey Lipscomb to make the play and commit the third error on the night.
While Glavine was able to get the batter — the O's #1 pick and the #1 overall of 2022 — Jackson Holliday to strike out looking, the mental error could have proven deadly.
Instead, the FredNats were able to get their 5th and final run on a walk, a balk, and a sacrifice fly and hold on for the 5-2 win.
With the win, Fredericksburg reduces its magic number to three with eight games to play. This afternoon Jose Atencio (3-2, 3.90) vs. Kegan Gillies (1-1, 4.35) rematch in the series finale.