Last Night in Fredericksburg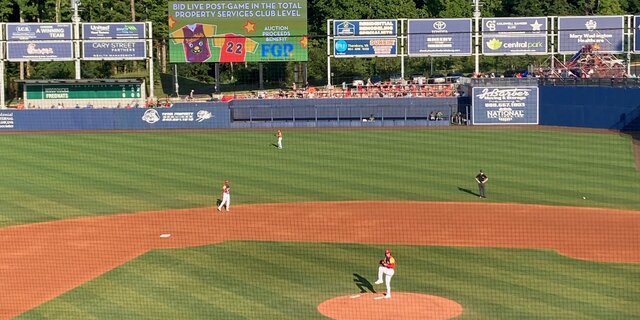 The FredNats bullpen came to the rescue of Mason Denaburg while the offense launched two solo homers to pad a 4-3 and held on for a 6-4 win over the Wood Ducks that clinched another series win.
Denaburg just never looked comfortable (the colorblind awareness night fan appreciation uniform didn't help), even as he retired the first batter on the first pitch. He walked two and hit a batter, striking out one in between the walks on a would-be ball four for a more disciplined hitter.
His teammates got him three in the bottom of the 1st as the 4-5-6 batters (Will Frizzell, T.J. White, and Branden Boisserie) converted a leadoff single by Jacob Young and a walk to J.T. Arruda into three runs with two singles and a fielder's choice.
Alas, the long wait for Denaburg didn't help as once again he got a quick out and then gave up a walk, then a double. Manager Jake Lowery pulled the plug after just one turn through the Down East Lineup. The Nats' #1 pick in 2018 finished at 13-for-36 – pretty good for a hitter, but when it's balls and strikes for a pitcher… not so much.
Tyler Schoff came on and let in both runners he inherited on a sac fly and another double. He gave up the equalizer in the 3rd on a Sammy Infante error and a 4-2-6 putout.
Frizzell, who singled in the 1st, got things going again in the 3rd with a leadoff double and scored on a two-out single by Trey Lipscomb – the second of three singles the Nats' 2022 3rd Rd. pick would get on the night.
The rally made a winner out of Schoff, but the real heroes were the trio of Chance Huff, Marquis Grisson Jr., and Marlon Perez, who combined for six innings pitched with one unearned run on one hit, no walks, and five strikeouts over the last six innings. Huff and Grissom would earn their first hold while Perez notched his second save.
The lockdown performance – at one point it was 17 batters retired in a row – was punctuated by solo HR's by Geraldi Diaz in the 4th and White in the 5th to open up a 6-3 lead before Down East pushed across a fourth run in the 9th on a triple and a passed ball.
The win, combined with a loss by Carolina, opened up a 4½ game lead for Fredericksburg for the C.L. North 2nd half title and reduced their magic number to ten. The two teams close out their series this afternoon with Jose Atencio (3-1, 2.35) facing off against Ryan Garcia (0-2, 2.59).