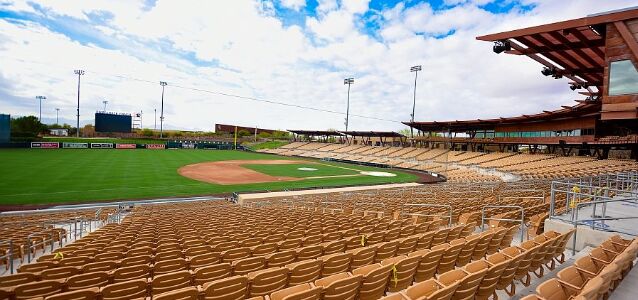 Todd Peterson pitched two scoreless innings late, but the rest of the Surprise staff was not up to snuff early as Glendale beat Surprise, 5-2 on Thursday.
Peterson walked two and struck out one while throwing 25 pitches, 14 for strikes in the 7th and 8th innings.
Cole Henry started but was bitten by the Dogs for two runs on two hits (one HR) over three innings. He walked two batters and hit two more, only mitigating the six baserunners allowed with a pickoff at 1st. He threw 65 pitches, 36 for strikes.
Three Nats were in the starting lineup:
Jackson Cluff played shortstop and batted second. He went 1-for-3 with a walk
Drew Millas was the Saguaros catcher and went 1-for-4 out of the No. 6 slot with a run scored and two stolen bases.
Israel Pineda batted 9th and was 0-for-2 with a strikeout
It's the same bat time, same bat channel as the two teams rematch this afternoon at the Camelback Ranch (pictured) in Glendale.