AFL/Offseason Update: Nov. 6, 2021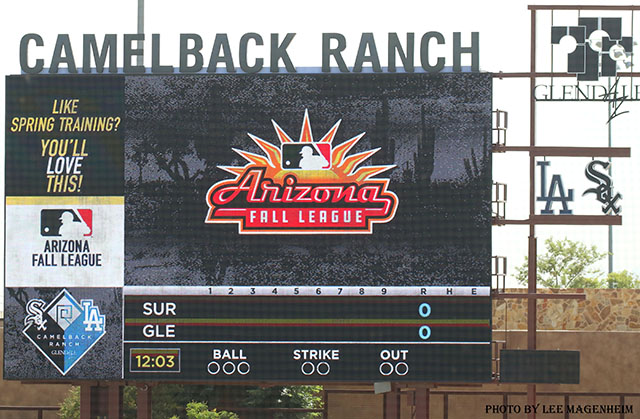 The Sagauros' bats came to life but the 'pen was still out to lunch as the Desert Dogs took another one, 8-6.
Just two Nationals appeared in the game:
Jackson Cluff batted 8th and played shortstop. He was 1-for-4 with a double, an RBI, and a run scored and took part in a double play.
Donovan Casey was the No. 9 batter and had a single and a double in four trips to the plate. He drove in one and had one putout in CF.
Surprise, which now leads the AFL West by just a game over Glendale, wraps up the week with a game tonight at Surprise Stadium (care to guess where it's located?).
# # #
THE 2021 HARRISBURG SENATORS
Double-A is the first level at which pitchers are allowed to hit. Unfortunately, it was difficult to tell the difference between the Sens pitchers and the position players as the team rode the Interstate until late June.
Harrisburg finished last in runs scored, HRs, walks drawn, RBI, and sacrifice flies. They led in HBPs and finished second in GiDPs. Even worse: They had the oldest hitters in the league by more than a year – 25.3 vs. 23.9.
The lack of hitting masked what was the best (albeit just slightly better than league-average) pitching of the four full-season teams, with an ERA of 4.16 and a R/G of 4.51 (4.35 and 4.68 respectively for the AA Northeast). Cade Cavalli helped, but his 58 innings weren't that big of a difference: 4.24 ERA without them.
Consequently, The Harrisburg Eight (ninth straight season) leans heavily towards pitchers. It remains unranked, but you can argue in the comments who's No. 2 since the gap between who's second-best and who's the best is a canyon.
| | |
| --- | --- |
| Jake Alu, IF | .264/.315/.411, 5HR in 56G |
| Cade Cavalli, RHSP | 3-3, 0SV; 2.79/3.02/1.28 in 11GS (58IP) |
| Aldrem Corredor, 1B/OF | .257/.328/.406, 9HR, 52RBI in 92G |
| K.J. Harrison, 1B/DH | .243/.312/.450, 14HR, 40RBI in 90G |
| Gabe Klobosits, RHRP | 2-1, 3SV; 0.90/2.77/1.05 in 20IP |
| Jhon Romero, RHRP | 2-4, 2SV; 2.83/3.26/1.15 in 47⅔ IP |
| Reid Schaller, RHRP | 1-1, 0SV; 4.94/3.73/1.44 in 23⅔ IP |
| Jackson Tetreault, RHSP | 5-3, 0SV: 3.74/4.98/1.36 in 10GS (55⅓ IP) |
Honorable mentions go to Jacob Rhinesmith, who posted a .775 OPS in 25 games across August and September, and Seth Romero, who remains lefthanded and struck out 34 batters in 20⅓ innings. You can find the full team's stats here. Pitching data can be found here.