AFL/Offseason Update: Nov. 20, 2021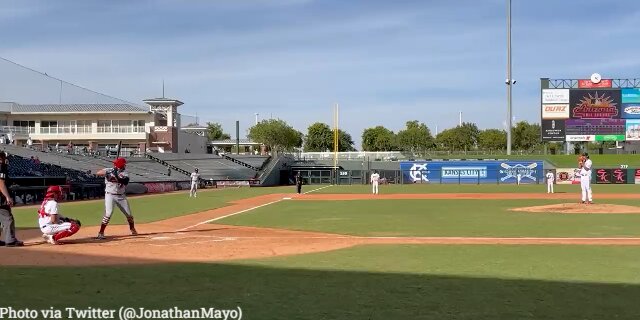 With a pair of crooked numbers in the 4th and 5th innings, Surprise overcame an early 3-0 deficit to defeat Glendale, 5-3 in seven innings.
Despite the Javelinas paddling the Rafters to finish with an identical 17-12 record, the Sagauros appear to have been awarded the AFL West title by virtue of a 33-32 edge in runs scored in the six games between the two teams, which they split 3-3.
In the clinching victory, the usual suspects (Jackson Cluff and Drew Millas) played on offense while Todd Peterson (pictured above) retired the side in order – two by way of the K – in the 7th to earn the save.
Cluff led off and played shortstop and went 0-for-2 with an RBI via a sac fly. He finished the Fall season with a .342/.432/.456 line with one HR, 14RBI, 14BB, and was 8-for-8 in SB attempts.
Millas batted 8th and caught, going 1-for-2 with a walk, a run scored, and an RBI, which was not enough to get over the Mendoza line at .196/.359/.275 with one HR, five RBI, and three stolen bases.
Surprise will play Mesa in the AFL Championship Game at the Salt River Fields (adjacent to the Talking Stick Casino and Resort, which is juuuuust a coincidence) tonight at 7 p.m. ET. The game will be televised on the MLB Network and will not have Tom Verducci on the call.
# # #
NATS ADD TWO TO 40-MAN ROSTER
As expected, Washington added Donovan Casey and Evan Lee to the 40-man roster ahead of next month's scheduled Rule 5 draft. Given that Casey had just been traded for this past July, you could bank on that move like a Nats trade with the A's.
Lee was a bit of a surprise – our e-migo and Rule 5 guru Todd Boss had pegged Tim Cate – with a much lower profile: 15th Rd. pick in 2018, #30 on the 2020 MLB Pipeline Top 30 (#21 currently) and unranked by Baseball America. Seems rather obvious that the Nats would rather protect the harder-throwing southpaw, who is a better "fit" for a drafting team to hide in the bullpen, and gamble that teams will pass on Cate and his 5.31/4.64/1.55 line.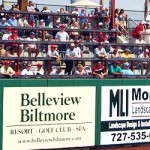 MINOR-LEAGUE RE-SIGNS
Three longtime OGs opted to go with the devil they know and stick with the Nats:
● RHP Luis Reyes
● RHP Jefry Rodriguez
● UT Adrián Sanchez