From the Archives: July 4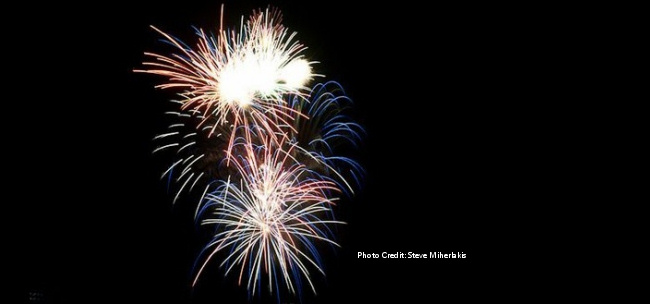 There's no minor-league baseball for the first time in forever. No joy. No verve. No poetry. But there'll still be fireworks (and hospitalizations) tonight (and in about two weeks) so enjoy the look back. And don't worry – everything's gonna be fine.
Lehigh Valley 4 Syracuse 2 (10 inn.) – 2018
• Milone 6IP, 3H, R, ER, BB, 6K
• Edgin (BS, 2; L, 4-2) ⅓ IP, 1H, 3R, 2ER, 2BB, 1K, HR
• Stevenson 3-5, 2B
• Falu 1-4, BB, RBI
After getting a gift-wrapped run in the top of the 10th, the Chiefs couldn't handle the prosperity and gave it right back in the bottom of the 10th (along with two more) as Colin Cowgill connected on an Earl Weaver Special for a 4-2 win. Tommy Milone held the IronPigs to one run over six innings while three relievers combined for three shutout innings of relief to force extras. Andrew Stevenson led the Syracuse hit column with two singles and a double while Irving Falu walked and singled and collected the sole RBI.
Reading 12 Harrisburg 10 – 2016
• Valdez ⅔ IP, 4H, 3R, 3ER, 2BB, K
• Simms (L, 4-4) 2⅓ IP, 5H, 5R, 4ER, 2BB, 3K, 3-0 IR-S
• N. Lee 1IP, 1H, 0R, 0BB, 2K
• Ward 4-5, 2R, 2-2B, 3RBI
• Rickles 3-4, R, 2B, BB, RBI
• Difo 3-6, 2R, CS
Harrisburg saw early leads of 2-0 and 6-3 go poof in a 12-10 slugfest loss to Reading. Philips Valdez couldn't make it out of the 1st as he retired just two of eight batters faced. He gave up three runs on four hits and two walks. John Simms left the bases loaded but was knocked for five runs over the next two innings to suffer the loss. Drew Ward led the comeback bids with two singles and two doubles and drove in three, followed by Nick Rickles (3-for-4) and Wilmer Difo (3-for-6).
Buies Creek 6 Potomac 0 – 2017
• Silvestre (L, 7-3) 5IP, 4H, 3R, 3ER, BB, 7K, 2HR
• Robles 2-4
• 0-1 RISP, 6 LOB
Two Buies Creek pitchers combined on a three-hit shutout for a 6-0 win over Potomac and complete the four-game sweep. Hector Silvestre got taken deep twice and stung for three runs on four hits over five innings for the loss. He walked one and fanned seven. Victor Robles remained upright and singled twice while Ian Sagdal singled once to round out the P-Nats hit tally. We're starting to run out of "where are they now?" candidates. Silvestre lingered in the Nats system for seven years, with four seasons spent in Woodbridge. 2017 was a peak year for the 27-y.o. Dominican southpaw as he set personal highs in GS (18) and IP (93⅓) but would not sign with an affiliated team in 2018, pitching for the Long Island Ducks instead for 10 games (7 starts) in 2018, and the Rieleros de Aguascalientes and Caneros de Los Mochis for the Mexican Leagues—regular and winter—in 2019 and 2020.
Lakewood 8 Hagerstown 3 – 2012
• Hansen 6IP, 7H, 3R, 3ER, 2BB, 2K
• Bates (L, 2-2) 2IP, 4H, 5R, 5ER, BB, K, HR
• Burns 3-4, R, RBI, SB(30)
• Goodwin 2-4, 2R, 2B
• Dykstra 2-4, RBI
For the fourth time in the five-game series, the Suns bullpen imploded, giving up five runs in the last of the 8th for an 8-3 sportswriter's win for the BlueClaws media. Colin Bates suffered the loss, giving up five runs on four hits over the last two frames, with the killshot being an inside-the-park three-run HR. Bobby Hansen got the no-decision with three runs allowed on seven hits and two walks. The top third of the Hagerstown lineup was 7-for-12, the bottom two-thirds was 1-for-23 with 10 strikeouts. The Suns still managed a winning roadtrip with a 5-4 mark, and return home for five against the Lexington Legends. Hansen was a rare bird for the Nats minors — a H.S. pick and a LHP who rose slowly up the ladder and peaked at Potomac in 2012 before dropping down to Low-A that June and going on the D.L. in August. He retired in 2013, enrolled in (and graduated from) the Univ. of Texas, San Antonio and founded a software company that caters to the dental industry.
Vermont 8 Lowell 1 – 2010
• McCatty (W, 1-1) 5IP, 1H, 0R, 3BB, 3K
• Eusebio 3IP, 2H, R, ER, 2BB, 2K
• King 3-5, R, 2B, 4RBI
• Moldenhauer 1-4, R, BB, HR, RBI
The Lake Monsters remain red hot, taking their 7th straight last night against the Lowell Spinners 8-1. Vermont's pitching staff kept Lowell batters quiet throughout this one. Starter Shane McCatty went five innings giving up only one hit and three walks with three strikeouts in this one. The Spinners moundsmen weren't so efficient, walking six to enable the Lake Monsters to score eight times on eight hits, though that included two doubles and a home run. Like Hansen, King was a HS pick but drafted higher. He was often paired with Steven Souza (another HS pick) and like Souza, King was suspended for amphetamine use. He was sent to Vermont to start the 2010 season, dropping two levels. King would eventually make it to Harrisburg and play parts of two seasons before ending his affiliated career with Potomac in 2012. He spent 2013 in the independent American Association before retiring. McCatty was last seen in The Onion.