The BA Prospect Handbook, Part Two
Let's get this out of the way…
| | | |
| --- | --- | --- |
| 16. Jackson Cluff | 21. Cole Freeman | 26. Nick Banks |
| 17. Tyler Dyson | 22. James Bourque (18) | 27. Steven Fuentes |
| 18. Reid Schaller (11) | 23. Joan Adon (25) | 28. Jakson Reetz |
| 19. Israel Pineda (15) | 24. Jackson Tetreault (21) | 29. Nick Raquet (19) |
| 20. Ben Braymer (20) | 25. Malvin Peña (28) | 30. Jhonatan German |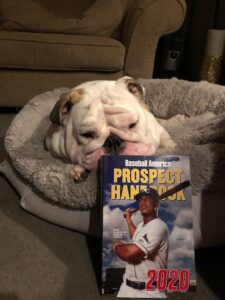 As it was a year ago, IFAs make up a third of the list and pitchers almost 2/3rds (19 of 30). The power of incumbency is on full display with the inclusions of Bourque and Braymer, both of whom should have aged off the list. (Yes, they may be useful to the big club, but I prefer not to talk salary considerations).
But more confusing is Malvin Peña, who moved up the list despite a 20-HR season (good for hitters, not so much for pitchers) and 6.20/5.55/1.40 line. Just six of his 23 starts went six or more innings with three or fewer runs allowed. Believe me, when he pitched in Woodbridge last summer, it was never anything but "I hope we come out on the right side of this 7-5 game."
RHP Eddie Yean was named as this year's breakout prospect. Last year, that title went to C Israel Pineda. Two years ago, it was 3B Kelvin Gutierrez; three years ago, LHP Tyler Watson, so take that for what it's worth.
RHP Jhonatan German was named the system's sleeper, which was given to IF Jake Noll in both 2019 and 2017 with RHP Gabe Klobosits sandwiched in between in 2018. For fantasy baseball owners folks outside the Natmosphere, that may actually be useful information.
Let's go back to mocking BA for its lineup projections, because, well, it's fun. Here's what they predicted in 2017 for 2020:
C – Pedro Severino
1B – Daniel Murphy
2B – Wilmer Difo
SS – Trea Turner
3B – Anthony Rendon
LF – Adam Eaton
CF – Victor Robles
RF – Bryce Harper
#1SP – Max Scherzer
#2SP – Stephen Strasburg
#3SP – Erick Fedde
#4SP – Joe Ross
#5SP – Austin Voth
CL – Koda Glover
Another 3-for-14, maybe five if you want to give a pass on Eaton and whichever of the Nos. 3-5 SPs ends up being the actual #5 SP this season. So, presuming that there will be no FA signings, no trades, no injuries, and no sudden declines in skill, here's your 2023 Washington Nationals:
C – Tres Barrera
1B – Drew Mendoza
2B – Luis Garcia
SS – Trea Turner
3B – Carter Kieboom
LF – Juan Soto
CF – Victor Robles
RF – Adam Eaton
#1SP – Stephen Strasburg
#2SP – Patrick Corbin
#3SP – Max Scherzer
#4SP – Jackson Rutledge
#5SP – Wil Crowe
CL – Tanner Rainey
We now return you to your Sunday. Is there anything on TV tonight?