AFL/Offseason Update: Sept. 28, 2019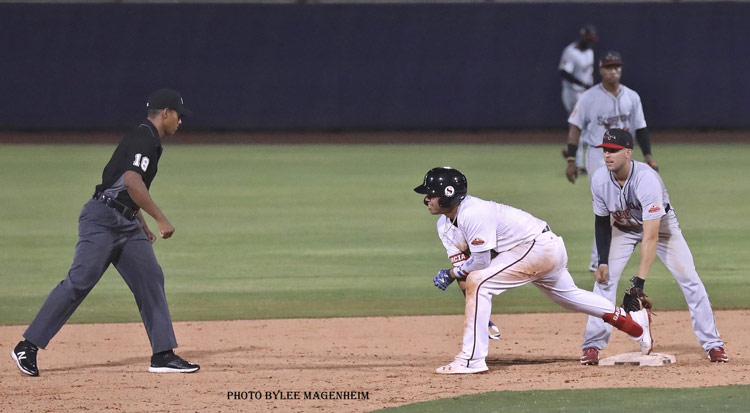 The game-winning run scored in the 8th, but, um, surprise it was the Saguaros who stung the Scorpions, 4-3, to improve to 7-1.
Luis Garcia and Nick Banks were the only two Nationals to appear in the game.
Garcia singled twice and doubled (pictured above) to go 3-for-4 with a walk, improving his line to .406/.441/.563. In the field he turned two double plays, one unassisted, the other just a routine 4-3-6-2-5 number.
Banks went 1-for-4 but struck out twice. Playing left field, he snagged two flyballs and fielded a single.
The two teams rematch tonight in Peoria. Surprise is the only team above .500 and has won six straight.
# # #
THE 2019 AUBURN DOUBLEDAYS
Three of the seven Nationals affiliates had winning records in 2019. The Auburn Doubledays were not one of them.
The season started with seven straight losses and then… it rained – the first of six rainouts in less than two months. After making the playoffs last summer, the Doubledays instead reverted to the mean for their sixth losing season since 2013. The team was a little below average in batting (3.87 R/G vs. 4.07 R/G) and well below average in pitching (4.66 R/G) and just about average on defense (.968FA vs. .970).
Without further ado, the Top 5's…
TOP 5 BATS
TOP 5 ARMS
1. Eric Senior, LF
.252 GPA, 7HBP, .421 SLG%
1. Alfonso Hernandez, LHRP
2.51/1.82/1.08, 9.2 K/9IP, 1.4 BB/9
2. J.T. Arruda, SS/2B
.245 GPA, .351 OBP, 30BB in 53G
2. Gilberto Chu, LHSP
2.68/2.74/1.10, 1HR in 43⅔ IP
3. Ricardo Mendez, LF/CF
.237 GPA, .359 OPB, .318 SLG%
3. Amos Willingham, RHRP
3.67/3.22/1.19, 1.33 BB/9IP
4. Caldioli Sanfler
.241 GPA, 46K in 48G
4. Evan Lee, LHRP
2.65/3.34/1.38, 11.65 K/9IP
5. Jake Randa, OF
.228 GPA, .983 FA
5. Niomar Gomez, RHSP
4.26/3.65/1.58, 57IP, 12G/12GS
Honorable mentions to Landerson Peña, who led the team in HRs with four, and Todd Peterson, who split time between starting and relieving and was actually better at the former despite more experience at the latter as an (*cough*) amateur at LSU.
Like a week ago, there are arguments to be had (except for why I omitted Adalberto Carrillo) to which I can only say: Small. Sample. Size.