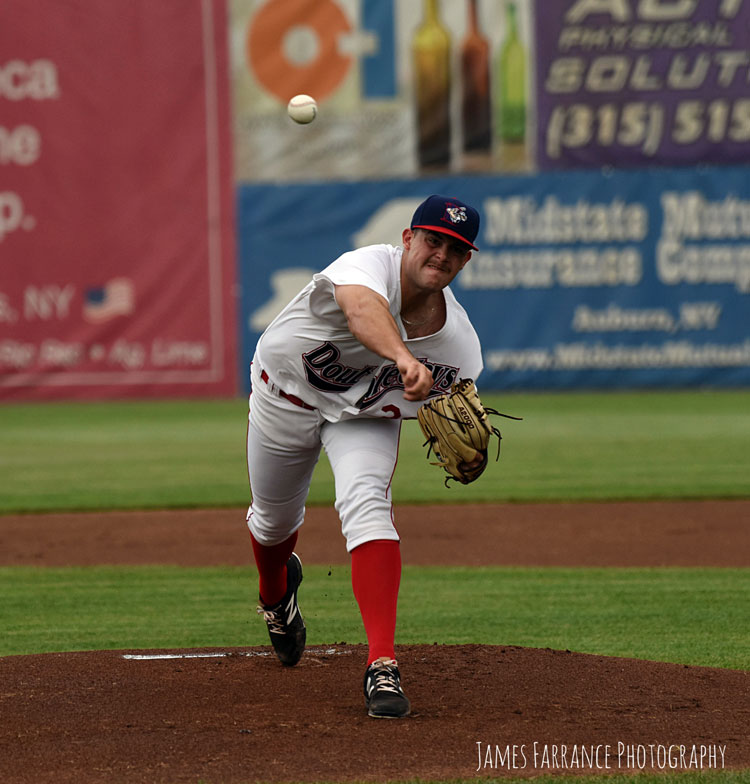 Team
Yesterday
Today
Pitching Matchup
Syracuse
OFF DAY
vs. Charlotte,
6:35 p.m.
Rodriguez (1-2,4.39) vs.
Adams (3-3, 3.29)
Harrisburg
OFF DAY
vs. Hartford,
6:30 p.m.
Estevez (1-4, 4.33) vs.
Tinoco (6-10, 5.35)
Potomac
OFF DAY
vs. Frederick,
7:05 p.m.
Raquet (1-2, 8.10) vs.
Baumann (7-2, 3.36)
Hagerstown
OFF DAY
@ Augusta,
7:05 p.m.
Alastre (4-6, 4.81) vs.
Marte (7-5, 4.01)
Auburn
Won, 11-6
vs. Williamsport,
6:30 p.m.
Fletcher (0-0, 1.02) vs.
Morales (3-3, 7.11)
GCL Nationals
Lost, 3-0
@ GCL Astros,
10:00 a.m.
Syracuse – OFF DAY
After losing two of three to the IronPigs, the Chiefs return to action on "Taco Tuesady" as they begin a six-game homestand against the Knights and the Stripers and have a chance to be mathematically eliminated before mid-August.
Harrisburg – OFF DAY
Harrisburg still trails Altoona by three games for the wild card spot in the E.L. West. Tonight, the Sens begin a six-game homestand against Hartford and Trenton and a two-week stretch of scoreboard-watching before the Curve and Sens face off for a two games on August 22 and 23.
Potomac – OFF DAY
The P-Nats are riding a four-game win streak as they host the Keys for three this week. With the reversion to the prior playoff format, there's no extra incentive for the first-half champs to win except to perhaps avoid having to play Wilmington up to ten times from August 31 to September 9.
Hagerstown – OFF DAY
After a 4-3 homestand, Hagerstown hits the road for four against Augusta and three against Charleston as they play out the string in the Sally Lg. North.
Auburn 11 Williamsport 6
• Schaller (W, 1-0) 5IP, 5H, 3R, 3ER, BB, K
• Teel (H, 1) 2IP, 2H, 0R, 0ER, 0BB, 2K
• O'Connor 2-3, 4R, 2B, 3B, 2BB, 3RBI
• Daily 2-3, R, BB
• Perkins 2-4, R, 2RBI
Reid Schaller (pictured above) wobbled through five innings but got his first professional win as the Doubledays felled the Crosscutters, 11-6. Schaller gave up three runs on five hits and a walk and struck out one (1) over five innings. Carson Teel earned the hold with two scoreless innings. Meanwhile, Auburn's hitters broke out for two in the 7th and four in the 8th to put the game away. Pablo O'Connor led the way with two walks, a double, a triple, four runs scored, and three RBI as the Doubledays pounded out 13 hits and drew five walks on the night.
GCL Astros 3 GCL Nationals 0
• Ross 3IP, 0H, 0R, 2BB, 5K
• Karp 2IP, 1H, 0R, 0BB, 1K
• Theophile (L, 0-3) ⅔ IP, 3H, 2R, 2ER, 2BB, 0K
• Franco 1-3, BB
• Chisholm 1-4
Joe Ross threw three scoreless innings as he becomes the latest Nats elbow to make the TJ tour through the minors. Alas, his counterparts on the Astros combined on a two-hit, 3-0 shutout of the G-Nats. The loss went to Rodney Theophile as he was drilled for two runs on three hits and two walks over the space of seven batters. Anderson Franco and Blake Chisholm both singled to account for the two G-Nats hits. Roster moves: RHP Andrew Karp assigned from Auburn for MiLB rehab; UT Adrian Sanchez assigned from Syracuse for MiLB rehab; RHP Joe Ross assigned from Washington for MLB rehab.