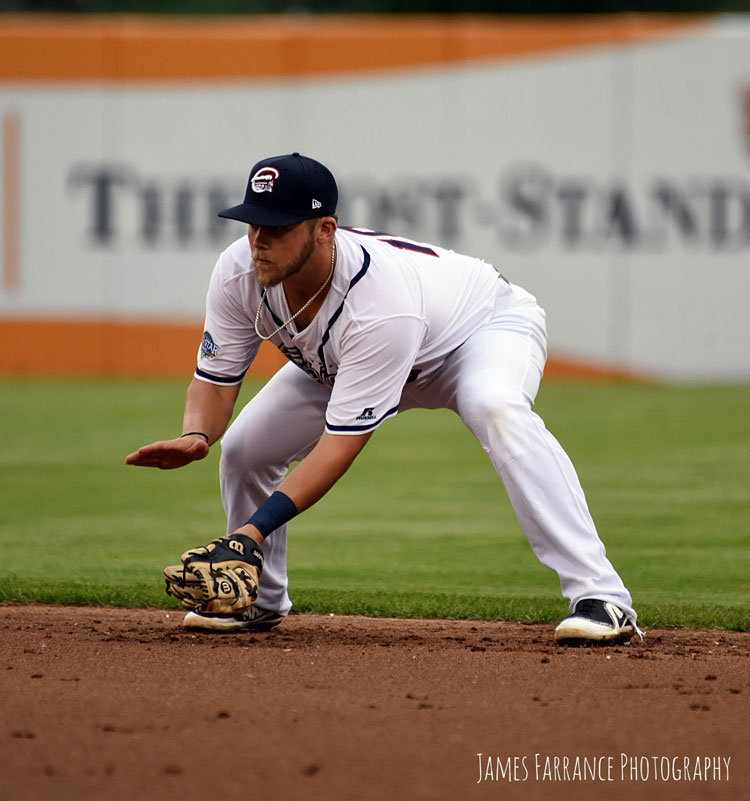 Team
Yesterday
Today
Pitching Matchup
Syracuse
Lost, 6-5
OFF DAY
N/A
Harrisburg
Lost, 7-2
OFF DAY
N/A
Potomac
Won, 7-0
OFF DAY
N/A
Hagerstown
Won, 1-0;
Lost, 5-2
OFF DAY
N/A
Auburn
Lost, 4-3
vs. Williamsport,
6:30 p.m.
Schaller (0-0, 2.25) vs.
Lindow (1-1, 2.51)
GCL Nationals
Lost, 17-7
@ GCL Astros,
10:00 a.m.
Lehigh Valley 6 Syracuse 5
• Voth (L, 4-8) 4⅓ IP, 7H, 5R, 4ER, 3BB, 2K, HR; 1-2, K
• Adams 1IP, 0H, 0R, 2BB, 3K
• Robles 0-3, R, 2BB, SB
• Marmolejos 0-3, BB
Roster move: RHP Austin Voth optioned from Washington.
Binghamton 7 Harrisburg 2
• Sharp (L, 3-2) 5+ IP, 5H, 5R, 4ER, 3BB, 1K; 1-2
• Harper ⅔ IP, 1H, 2R, 2ER, 3BB, 1K, HBP, 2-2 IR-S
• Keller 1-3, R, 3B
• Collier 1-2
The Rumble Ponies stampeded Sterling Sharp and Bryan Harper for six runs in the 6th en route to a 7-2 win in the series finale. Sharp pitched to four batters in the 6th without retiring a batter. All four came around to score as Harper let in both inherited runs and two of his own on a hit, three walks, and one hit batsman over the space of seven batters. Sharp would finish with a line of five runs allowed over five-plus innings on five hits and three walks and one whiff (not the opposing pitcher). The Senators managed seven hits and four walks while striking out 11 times. Roster move: RHP Logan Darnell reassigned from Syracuse.
Potomac 7 Myrtle Beach 0
• Baez (W, 7-8) 5IP, 4H, 0R, 3BB, 5K
• Crownover 2IP, 3H, 0R, 0BB, 1K
• Corredor 4-5, 2-2B, 4RBI
• Garcia 3-5, 3R, 2B
• Mejia 3-5, 2R, 2B, RBI
Five Potomac pitchers combined on an eight-hit, 7-0 shutout that completed the three-game sweep of Myrtle Beach. Joan Baez went the first five innings and put on seven baserunners (four hits, three walks) while striking out five. He won his seventh game, fourth in his last five starts. Four relievers combined on the final four innings, giving up four hits and no walks. The first four P-Nats batters combined for 13 of the team's 15 hits, with Aldrem Corredor leading the way with two singles, two doubles, and four RBI.
Hagerstown 1 Hickory 0 – GAME ONE
• Hill (W, 4-3) 7IP, 4H, 0R, BB, 6K
• Freeman 1-2, 2B, BB, RBI, SB(22)
• Upshaw 1-3, R, 2B
Brigham Hill went the distance as the Suns shut out the Crawdads. 1-0 hill gave up four hits, walked one, and struck out six while winning his fourth game. Armond Upshaw and Cole Freeman connected on back-to-back two-out doubles for the game's lone run. Gage Canning also doubled to round out the Suns hit column.
Hickory 5 Hagerstown 2
• Held (L, 3-6) 4IP, 4H, 3R, 3ER, 0BB, 3K, HBP, 3WP
• C. Pena 1IP, 0H, 0R, BB, K
• Esthay 2-3, R, 2B, HR(10), RBI
• Flores 2-3, R, SB
In the "aftercap," Hickory rallied for two in the 3rd to take a 3-1 lead and two more in the 6th for the eventual 5-2 win. Sam Held got the spot start and was knocked for three runs on four hits over four innings. He walked none and struck out three as he lost for the sixth time this season. Kameron Esthay doubled and homered while Alejandro Pena singled twice to lead the Hagerstown offense.
Williamsport 4 Auburn 3
• Cate 5IP, 5H, 3R, 3ER, BB, 4K, WP
• Day (L, 1-2) 3IP, 4H, R, ER, 2BB, 3K, HBP
• Carrillo 2-3, R, BB, RBI
• Blash 2-4, R, 3B, RBI
• 10 LOB
The Crosscutters got to Tim Cate for three in the 1st and Chandler Day for one in the 8th for a 4-2 win that stopped the Doubledays' win streak at four. Cate added four scoreless to finish with three runs on five hits and a walk over five innings. Over three innings, Day put on seven baserunners with four hits, two walks, and a hit batsman but the one that got in pegged him with his second loss. Adalberto Carrillo reached base three times with a walk and two singles to lead Auburn's 11-hit parade.
GCL Cardinals 17 GCL Nationals 7
• Williamson 3IP, 2H, R, ER, 0BB, 2K, HR
• Jimenez (L, 1-1) 2IP, 7H, 7R, 6ER, 0BB, 0K, 0HR, HBP
• Senior 3-5, R, RBI
• Sosa 2-3, R, 2-2B, BB
• Sanfler 2-3, R, BB, 3B, RBI
After rallying late to pull within one at 8-7 after 7½ innings, the G-Cardinals sent 11 men up the plate in the bottom of the 8th, and nine of them came around to score for a 17-7 demolition of the G-Nats. Ryan Williamson got the start and gave up a run on a home run – the first of four on the day; the other three came in the 8th – and two hits total. He walked none and struck out two. Jose Jimenez took the loss, giving up seven runs on seven hits over two innings. He did not pitch the 8th. Eric Senior lead the G-Nats offense with three singles, while Blake Chisholm and Ronaldy Sosa both doubled twice to lead the G-Nats 13-hit, three-walk offense.