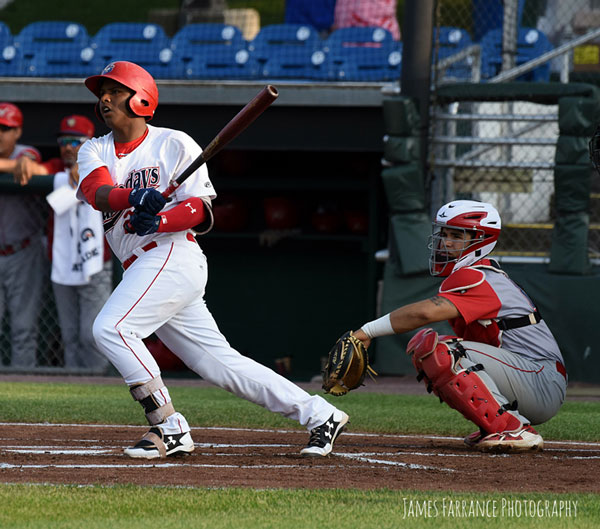 Team
Yesterday
Today
Pitching Matchup
Syracuse
Won, 2-0
vs. Charlotte,
6:35 p.m.
TBD vs. Stephens (3-4, 4.36)
Harrisburg
Won, 3-2
(10 inn.)
vs. Hartford,
6:30 p.m.
Crowe (AA debut) vs.
Garcia (3-1, 2.68)
Potomac
Won, 12-0
vs. Frederick,
7:05 p.m.
Crownover (3-8, 5.36) vs.
Dietz (0-4, 8.31)
Hagerstown
Postponed
@ Augusta,
5:35 p.m.
Alastre (4-6, 4.81) and
A. Lee (3-2, 4.37) vs.
Marte (8-5, 4.01) and
Phillips (4-6, 4.26)
Auburn
Lost, 4-2
vs. Batavia,
6:30 p.m.
Stoeckinger (1-1, 1.17) vs.
Guerrero (2-3, 3.08)
GCL Nationals
Won, 9-4
OFF DAY
Syracuse 2 Charlotte 0
• McGowin (W, 1-1) 8IP, 2H, 0R, BB, 9K
• Marmolejos 2-4, 2B
• Robles 0-2, 2BB, SB, CS
Roster moves: RHP Jefry Rodriguez recalled to Washington; RHP Jimmy Cordero optioned from Washington.
Harrisburg 3 Hartford 2 (10 inn.)
• Mapes 6IP, 6H, R, ER, BB, 3K
• Mendez (W, 6-4) 1IP, 0H, 1R, 0ER, BB, K
• Read 4-5, 2B, 2RBI, 2PB(5)
• Gamache 2-2, 2B, E(8)
• Keller 2-4, R
Raudy Read's two-out, two-strike, two-run double lifted the Senators past the Yard Goats for a 3-2 win in 10 innings. The walk-off hit made a winner out of Roman Mendez, who had let in the free runner in the top of the 10th on two sacrifices (bunt, fly). Tyler Mapes got the start and pitched six innings of one-run ball on six hits and one walk while fanning three. Read also singled three times while Dan Gamache added a single and a double off the bench to power the Harrisburg offense. Roster moves: RHP Wil Crowe promoted from Potomac; RHP Wirkin Estevez released.
Potomac 12 Frederick 0
• Raquet (W, 2-2) 5IP, 5H, 0R, 4BB, 2K
• Acevedo 2IP, 1H, 0R, 0BB, 3K
• Corredor 2-3, 2R, 2HR, 2BB, 4RBI
• Garcia 3-5, R, 4RBI
• Sagdal 3-4, 2R, 2B, BB
Potomac ran its win streak to five as they pummeled Frederick for 14 hits in a 12-0 shutout. Nick Raquet wobbled through five innings in which the Keys did not score despite nine baserunners (five hits, four walks) for his second win. Carlos Acevedo, Steven Fuentes, and Jeremy McKinney combined for four scoreless to complete the whitewashing. Aldrem Corredor homered twice, walked twice, and drove in four, as did Luis Garcia while going 3-for-5 to lead the P-Nats attack. Roster moves: LHP Taylor Guilbeau activated from the 7-Day DL.
Hagerstown vs. Augusta – PPD
The Suns were rained out for the 43rd (OK, fine – 19th) time last night vs. the GreenJackets. They'll try to make it up tonight with a doubleheader.
Williamsport 4 Auburn 2
• Fletcher 2IP, 2H, 0R, 0BB, 1K
• Guillen (L, 5-2) 5IP, 5H, 3R, 3ER, BB, 6K
• O'Connor 3-5
• Sanchez 2-3, 2B, BB
Williamsport never trailed as they doubled up Auburn, 4-2 to take the series, 2-1. Aaron Fletcher went the first two innings and gave up two hits without a walk or a run scored. Angel Guillen took the loss on five innings of three-run relief on five hits and a walk while striking out six. Pablo "Cruise" O'Connor (pictured above) found a way for three singles in five trips to the plate while Jose Sanchez reached base three times with a walk, single, and a double to lead the Doubledays offense. Roster move: OF Justin O'Connell reassigned from the GCL.
GCL Nationals 9 GCL Marlins 4
• Irvin 2IP, 0H, 0R, BB, 0K
• P. Gonzalez (W, 1-1) 3IP, 2H, R, ER, BB, K
• L. Pena 4-4, R, 3B, HR, 4RBI
• Chisholm 2-3, 3R, 2B, 3B, BB, RBI
• W. Perez 3-4, 3R, 2B, 2RBI
The G-Nats broke out for four runs in the 5th to take a 6-1 lead and held off the G-Marlins for a 9-4 win. Jake Irvin made the look-see start for two scoreless, hitless, walkless, whiffless innings. The win went to Pedro Gonzalez for three innings of one-run relief on two hits and a walk while fanning one (1). Landerson Pena was a double shy of the cycle as he went 4-for-4 with four RBI, followed by Blake Chisholm with a double, triple, a walk, and one RBI, and Wilmer Perez with two singles and a double with two RBI.