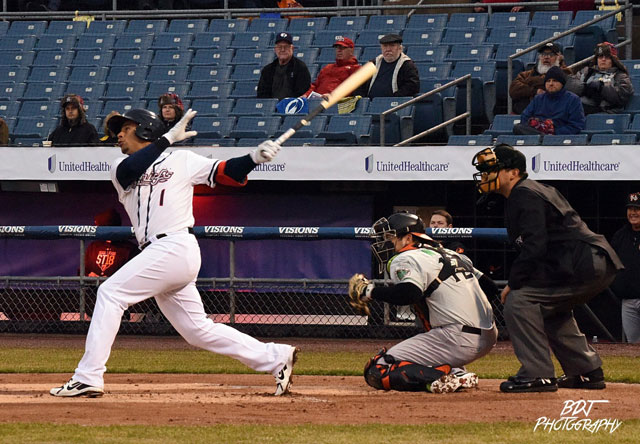 Team
Yesterday
Today
Pitching Matchup
Syracuse
Won, 9-8
(10 inn.)
vs. Norfolk,
1:05 p.m.
Fedde (0-0, 0.00) vs.
Ye. Ramirez (0-1, 2.25)
Harrisburg
OFF DAY
vs. Bowie,
7:00 p.m.
J. Rodriguez (0-1, 5.06) vs.
Akin (0-1, 9.00)
Potomac
Lost, 11-6
@ Frederick,
7:00 p.m.
Mapes (0-0, 1.80) vs.
Sedlock (0-0, 6.75)
Hagerstown
Lost, 10-9
(10 inn.)
vs. Greensboro,
6:05 p.m.
Alastre (0-0, 2.25) vs.
Lillie (0-0, 5.40)
Syracuse 9 Norfolk 8 (10 inn.)
• Milone 5IP, 6H, 5R, 4ER, BB, 5K
• Torres (W, 1-0) 2IP, 0H, 0R, 0BB, 1K
• Sanchez 4-6, 2R, 2-2B, RBI
• De Aza 2-3, BB, 2RBI, 2SB
• Dominguez 2-4, 3R, BB, 3B, HR, 2RBI
Adrian Sanchez's fourth hit on the night turned the tide for good as Syracuse defeated Norfolk 9-8 in 10 innings for its fourth straight win. Tommy Milone got the start but was ineffective, giving up five runs on six hits and a walk over five innings. The win went to Carlos Torres as he pitched two scoreless to finish the game. Sanchez singled twice and doubled twice while Alejandro De Aza reached base three times as did Chris Dominguez with a triple and a homer. Roster move: OF Rafael Bautista reassigned from Harrisburg.
Harrisburg – OFF DAY
Ah, the joys of early-season scheduling. Harrisburg and Bowie rematch for three over the weekend before before Reading comes to town Monday through Thursday for the Sens' first homestand.
Roster move: OF Hunter Jones reassigned from Syracuse.
Frederick 11 Potomac 6
• Baez (L, 0-1) 3IP, 8H, 6R, 5ER, 0BB, 3K, HR, 2WP, HBP
• Lora 2-4, R, RBI
• Noll 2-5, R, 2B, HR, 3RBI
• Sundberg 1-1, 2R, 2BB
Joan Baez loaded the bases in the 3rd but rolled a double play to get out of it. Unfortunately, that only kept the deficit at 6-0 as the Keys pounded the P-Nats 11-6 in the series opener. Baez did not issue a walk for the first time since August 2, 2016 but did give up eight hits and hit a batter while suffering the loss. Potomac squeezed six runs out of just eight hits and three walks, led by Jake Noll (double, HR, 3RBI) and Edwin Lora (two singles, RBI). Roster moves: 1B-OF Ian Sagdal placed on the 7-Day; IF David Masters activated from the 7-Day DL..
Greensboro 10 Hagerstown 9 (10 inn.)
• Tetreault 5IP, 8H, 4R, 4ER, BB, 8K, HR
• Engelbrekt (L, 0-1) 1IP, 1H, 1R, 0ER, 0BB, 0K
• Garcia 4-6, 2R, RBI, SB
• Flores 3-5, 2R, 2B, HR, RBI, PB(2)
• Banks 2-6, R, HR, 3RBI
Hagerstown led Greensboro 5-0 after two, and 7-3 after four, and 9-7 after seven, but couldn't hold on for 10-9 loss in 10 innings. Jackson Tetrault piled up eight K's but also gave up eight hits, including a home run and four runs total after five for the no-decision. A.J. Bogucki (2R, 2IP) and Jared Brasher (3R, 2IP) brought the gas instead of the water to put out the fire, but the loss went to Max Engelbrekt who let in the runner placed on 2nd in the 10th on a one-out single. Luis Garcia led the Suns 13-hit parade with four singles, followed by Alejandro Flores's 3-for-5 night.