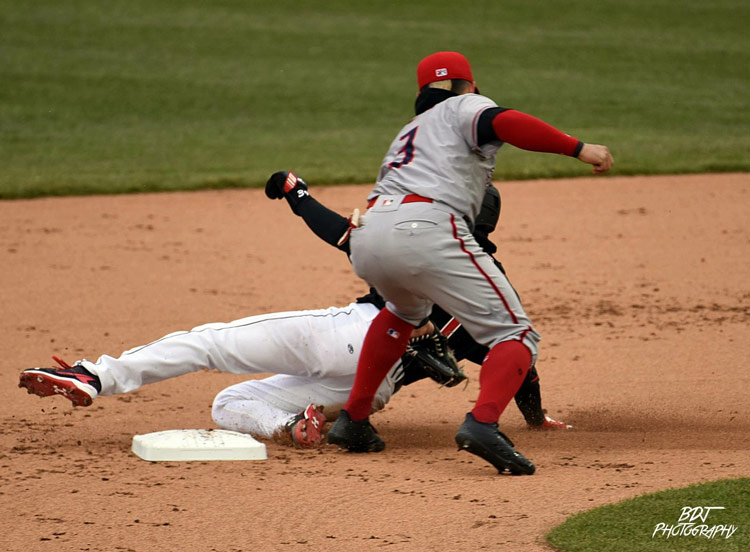 Team
Yesterday
Today
Pitching Matchup
Syracuse
Won, 7-1
vs. Norfolk,
5:35 p.m.
Milone (0-0, 5.06) vs.
Wojciechowski (0-0, 0.00)
Harrisburg
Lost, 4-3
OFF DAY
N/A
Potomac
Lost, 4-2
@ Frederick,
7:00 p.m.
Baez (0-0, 3.86) vs.
Alvarado (1-0, 0.00)
Hagerstown
Lost, 8-3
vs. Greensboro,
6:05 p.m.
Tetreault (0-1, 9.64) vs.
Bautista (0-0, 0.00)
Syracuse 7 Rochester 1
• Voth (W, 1-0) 5⅔ IP, 3H, R, ER, BB, 9K, HR
• Smith 2IP, 1H, 0R, BB, 2K
• De Aza 3-4, 2R, BB, RBI
• Falu 3-5, 2B, RBI
• Sanchez 2-5, R, 2B
Every Chiefs batter got a hit (wait, what?) as Syracuse completed the sweep of Rochester with a 7-1 victory. Austin Voth lost the shutout bid with two outs in the 1st but pitched into the 6th with just three total hits allowed, one walk, and nine strikeouts for his first win of the season. Tim Collins and Chris Smith combined for three and 1/3rd scoreless innings of relief to lower their ERAs to 13.50 and 15.43 respectively. Alejandro De Aza and Irving Falu led the 14-hit assault with three hits apiece, followed by Adrian Sanchez and Chris Dominguez with two each. Roster move: OF Moises Sierra recalled to Washington.
Harrisburg 2 Altoona 1
• Dragmire (W, 1-0) 6IP, 5H, 0R, BB, 2K
• Self (SV, 1) 1IP, 1H, 0R, 0BB, 3K
• Gamache 2-3, HBP
• Gushue 2-4, 2B, RBI
Brady Dragmire tossed six scoreless inning and the Sens 'pen held the lead as Harrisburg edged Altoona, 2-1. Dragmire gave up five hits and one walk while fanning two for "W" #1. Phillips Valdez let in one run over two innings but held the lead for Derek Self, who struck out the side in the 9th while earning the save. Dan Gamache collected two more hits and got Victor Robles'd to reach base three times while Taylor Gushue singled, doubled, and drove in a run to lead the Senators offense.
Down East 4 Potomac 2
• Sharp (L, 1-1) 4IP, 7H, 4R, 3ER, 2BB, 3K
• Pantoja 3IP, 2H, 0R, BB, 0K
• Agustin 1-3, R, 3B, OF assist at 2B, E
• Davidson 2-4, 2B, RBI
Turnabout is fair play as Down East dropped a three-spot in the 1st and held on for a 4-2 win over Potomac. Sterling Sharp took the loss with all four runs allowed on seven hits and two walks over four innings. Jorge Pantoja (3IP) and Ronald Pena (2IP) combined for five scoreless to keep the P-Nats close. Austin Davidson's RBI single in the 6th broke up the shutout and Telmito Agustin scored on a wild pitch following a one-out triple, which was the fifth and final hit for Potomac as they went in order in the 9th. Roster move: C Matt Wieters MLB rehab assignment ended, returned to Washington.
Columbia 8 Hagerstown 3
• Raquet 6IP, 2H, R, ER, 2BB, 6K
• Acevedo (BS, 1; L, 0-1) 2IP, 8H, 7R, 7ER, BB, K, HBP, 2WP
• Soto 1-2, 3B, 3BB, RBI, SB
• Freeman 2-5, R, 2B, 2RBI
For the second time in three games Columbia scored six times in a single inning, this time in the 8th to overcome a 3-2 deficit and send Hagerstown home with an 8-3 loss. Nick Raquet's six innings of one-run ball on two hits and two walks with six whiffs was only good for a no-decision. Carlos Acevedo was touched for one run in the 7th for the blown save and torched for six more in the 8th for the loss. He walked one, struck out, hit a batter, and threw two wild pitches. Juan Soto walked three times (once intentionally) and had an RBI triple while Cole Freeman singled, doubled, and drove in two to pace the Suns offense.