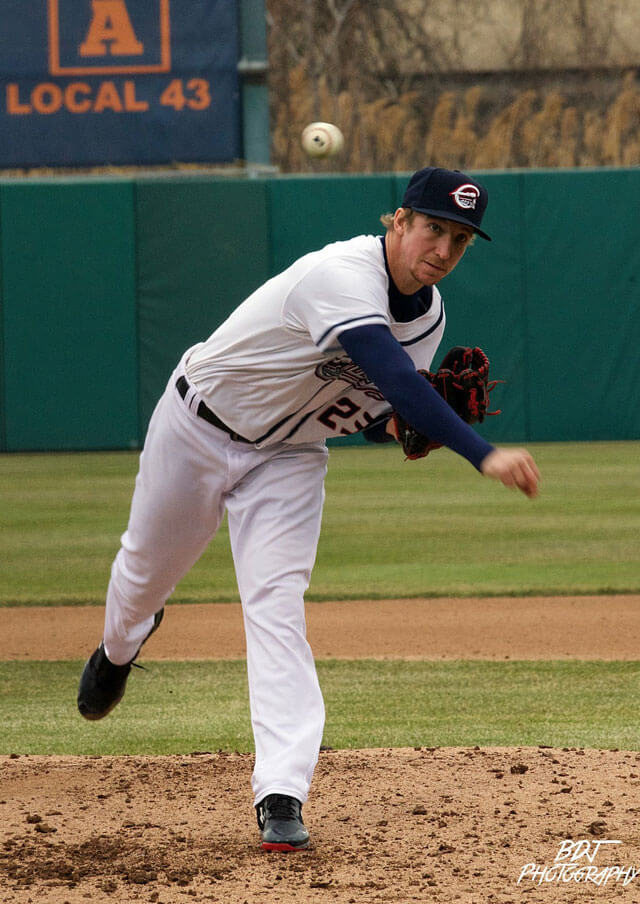 Team
Yesterday
Today
Pitching Matchup
Syracuse
Lost, 4-3
vs. Norfolk,
1:05 p.m.
Jackson (0-0, 2.25) vs.
Hess (0-0, 1.80)
Harrisburg
Won, 5-1
vs. Bowie,
6:00 p.m.
Reyes (0-1, 11.25) vs.
Harvey (0-1, 2.08 in '17)
Potomac
Won, 7-1
@ Frederick,
2:00 p.m.
Crowe (1-0, 5.40) vs.
Humpal (0-1, 5.40)
Hagerstown
Lost, 6-4
vs. Greensboro,
6:05 p.m.
Stoeckinger (0-1, 18.00) vs.
Braley (0-1, 6.75)
Norfolk 4 Syracuse 3
• Fedde 5IP, 8H, 3R, 3ER, BB, 5K
• Goforth (L, 0-1) 1⅔ IP, 3H, R, ER, 0BB, 1K, HR
• De Aza 3-4, 2R, 2B, BB, RBI
• Kieboom 1-3, 2BB, 2E
Syracuse's four-game win streak stopped with a 4-3 loss to Norfolk. Chiefs starting pitcher Erick Fedde (pictured above; click here if you didn't know that) let in the first three Tide runs on eight hits and a walk over five innings. The loss went to David Goforth on a solo HR in the 7th. The Chiefs racked up 13 hits—led by Alejandro De Aza with two singles and a double—and drew five walks but had trouble driving them in as they went 3-for-14 with RISP and left on 15 baserunners. Roster moves: OF Victor Robles placed on the 7-Day DL, retroactive to April 10; IF Michael Almanzar activated from the 7-Day DL; C Tuffy Gosewich assigned from Washington.
Harrisburg 5 Bowie 1
• Rodriguez (W, 1-1) 6⅔ IP, 4H, 0R, 2BB, 4K, 3WP
• Harper 1IP, 2H, 0R, 0BB, 2K
• Gutierrez 2-3, 2R, BB, 2SB
• Norfork 2-4, R, 3RBI
• Gamache 2-4, R
The Senators got solid pitching and solid hitting in a 5-1 win over the BaySox. Jefry Rodriguez tossed six and 2/3rds shutout innings with four hits and two walks allowed while striking out four to earn the win, his first at AA. Kelvin Gutierrez, Khayyan Norfork, and Dan Gamache each collected two singles and combined for four runs scored, with Gutierrez stealing a pair of bases and Norfork driving in three.
Potomac 7 Frederick 1
• Mapes (W, 1-0) 5IP, 5H, 0R, BB, 7K
• Bourque 2IP, 0H, 0R, 0BB, 3K
• Mejia 3-5, R, RBI, SB
• Noll 3-5, 2RBI
• Wiseman 2-4, 2R, 2B, 3B, BB, RBI
Tyler Mapes turned in five shutout innings and got plenty of run support in Potomac's 7-1 win over Frederick. Mapes stuck out seven and walked one while giving up five hits in the win, his first since Aug. 23, 2016. Beers were on Jack Sundberg, who was the only batter not to get a hit in the P-Nats' 16-hit barrage, which was led by Bryan Mejia and Jake Noll (both 3-for-5).
Greensboro 6 Hagerstown 4
• Alastre 5IP, 7H, 4R, 3ER, 3BB, 4K, HR, 3WP
• Held 3IP, 3H, 0R, 0BB, 4K, WP
• Johnston (L, 0-1) 1IP, 2H, 2R, 2ER, 2BB, 1K
• Banks 2-4, R, SB
• Soto 1-4, R, HR, 2RBI
The Suns got burned again late as two 9th-inning runs were the difference in a 6-4 loss to the Grasshoppers. Kyle Johnston was roughed for the deciding tallies on two hits and two walks to take the loss. Tomas Alastre got the start and gave up four runs (three earned) on seven hits anf three walks for the no-decision. In between, Sam Held struck out four over three scoreless innings. Juan Soto made three outs but also smacked his fourth HR in nine games. Nick Banks, Anderson Franco, and Cole Freeman each went 2-for-4 in the Suns' 10-hit, one-walk offense.
Roster moves: RHP Brigham Hill placed on the 7-Day DL; RHP Sam Held reassigned from Auburn.