AFL/Offseason Update: Nov. 11, 2017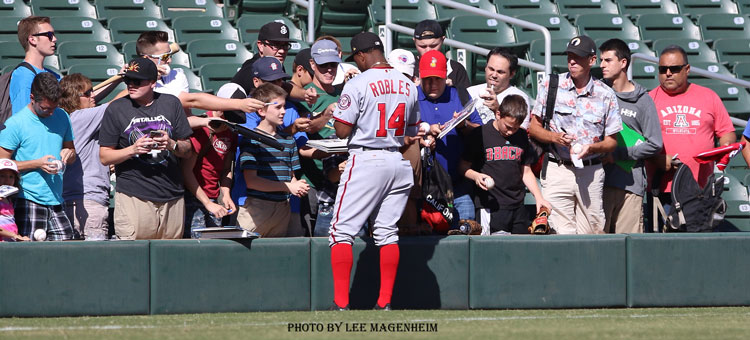 A pitcher's duel went into extras, but Mesa's two runs in the final inning (by rule) were matched by Salt River for a 3-3 tie in 11 innings.
Victor Robles, who signed for eBay investors the fans prior to the game, led off the game as the DH with a infield single and homered for the third time this fall in the 8th to tie it up at 1-1.
Kelvin Gutierrez has yet to cool down as he put up another 2-for-5 effort and his fourth multihit game while playing first base again. He did, however, strike out twice and got thrown out trying to steal third base.
Daniel Johnson's hitless streak extended to six games with an 0-for-4 game and one walk. Defensively, the centerfielder had one putout.
Jimmy Cordero worked around two hits in the 7th and struck out in his lone inning of work. He threw 19 pitches, 11 for strikes.
With the tie, the Rafters and Solar Sox remain 1½ games apart in the AFL East with five games left to play. They rematch this afternoon for the final time this season.
# # #
FREE AGENTS
Minor-league free agency began this week with a fairly sizable contingent of guys – 26 though that does include a couple of player-coaches:
RHPs – Gabriel Arias, Taylor Hill, Kevin Jepsen, Jaron Long, Rafael Martin, Gilberto Mendez, Sean O'Sullivan, Neil Ramirez, Andrew Robinson, Cody Satterwhite, Kyle Schepel
LHPs – Tim Collins, Neal Cotts, Braulio Lara
C – Devin Ivany, Andruth Ramirez
IF – Michael Almanzar, Emmanuel Burriss, Benji Gonzalez, Corban Joseph, Mario Lisson, Matt Skole, Brandon Snyder, Neftali Soto
OF – Joey Butler, Chad Huffman
Eyeballing it, there's roughly half-a-dozen homegrown players here, including the two player-coaches so we're not looking at sizable farewell here for longtime farmhands.
TRANSACTION UPDATE
Just ahead of the free-agency, the Nats made the following moves:
Released – OF Matt Page, C C.J. Picerni, RHP Michael Rishwain
Re-signed – IF Irving Falu, IF Dan Gamache, C Jake Lowery
For some reason, the Nats decided to hold onto 24-y.o. Picerni this season after a 2-for-8 showing in the GCL last summer. Our semi-annual reminder that "our guys" are treated like cattle (chattel?) when it suits the organization.
WINTER LEAGUES
A fair amount of Nats in the Winter leagues are now ex-Nats in the winter leagues, so here's a selection the more notable minor-leaguers, all in the Dominican Winter League except Aldrem Corredor, who's in the Venezuelan Winter League:
Osvaldo Abreu .267/.313/267 in 6G
Rafael Bautista .125/.214/.357, 4SB in 7G
Jose Marmolejos .231/.324/.354, 2HR, 7RBI in 18G
Raudy Read .267/.267/.667, 2HR, 4RBI in 4G
Pedro Severino .125/.200/.125 in 3G
Aldrem Corredor .091/.130/.091 in 11G