AFL Update: Nov. 10, 2017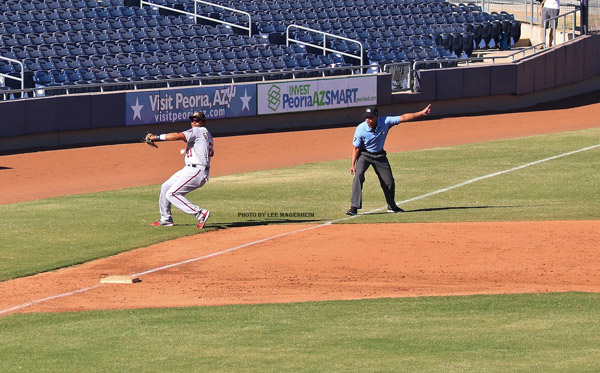 Mesa couldn't hold a 2-1 lead late and and couldn't outslug Peoria as they fell in 10 innings, 5-4.
Just one National appeared in the starting lineup. Kelvin Gutierrez (pictured above, throwing out speedster Lourdes Gurriel) lowered his batting average again with a 2-for-5 afternoon but extended his on-base streak to seven games. He also drew a walk, stole a base, and struck out.
Two relievers made an appearance. Dakota Bacus turned in a perfect inning, mowing 'em down on 13 pitches (10 strikes) in the 7th. Austen Williams struck out the side in the 8th but was also lit up for two runs on two hits for a blown save.
The Solar Sox, who still lead the AFL East by 1½ games, visit the Rafters this afternoon.
# # #
Today is the observation Veterans Day. If you'll permit me a plug from my day job, please read A Practical Guide to Honoring Vets on Veterans Day.