AFL/Offseason Update: Nov. 5, 2016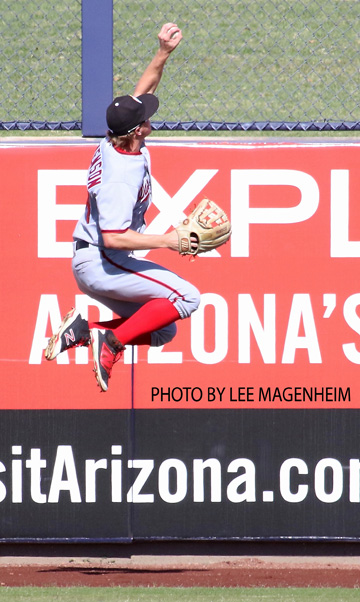 The Desert Dogs got three in the 1st and cruised to a 5-1 victory over the Javelinas for their fourth straight win.
Spider-man Andrew Stevenson was the sole National to play yesterday. The 22-y.o. led off for Glendale and reached base four times with two singles and two walks, which pushed his fall line to .327/.368/.500 in 13 games. In the field, he made three putouts (all in the 6th inning).
Tonight is the Fall Star game, for which Drew Ward and Ryan Brinley have been named to the West Division roster. It will be broadcast on the MLB Network at 8 p.m. Warning: Tom Verducci, a.k.a. proof that writing and broadcasting are two very different skills, may be on the telecast.
# # #
TRANSACTION UPDATE
Minor-League Free Agency will coincide with Election Day (or the apocalypse, depending on your political leaning or choice of cable news provider) on Tuesday, but the latest dispatch from Baseball America has some re-signs and a release:
• Re-signed – RHP Whit Mayberry, C Nick Rickles
• Released – OF Brian Pruitt
I'd love to know exactly why the Nationals chose to keep Pruitt, a 2008 34th Rd. Pick who hit .172/.293/.234 in parts of two seasons with the Vermont Lake Monsters, on the Reserve List for more than six years. Maybe it's an early 30th birthday present? Sadly, it may be as simple as: Because they could.

HAGERSTOWN SUNS FOR SALE
In the short term, this is mostly meaningless – the franchise has a PDC with Washington through 2018 and a lease on Municipal Stadium for the same period of time. In other words, the franchise is at its maximum possible value and this is a trial balloon to guage interest.
As longtime readers know, buying the team is only part of the equation, and relatively easy. Getting a stadium is the other part, and much, much, much harder. Something to keep an eye on, of course.

THE SYRACUSE CHIEFS
Were it not for tradition, I might start with the Chiefs to cleanse the palate. In seven seasons of this site's existence, they've had two (2) winning seasons. In four of the other five, they were within shouting distance of .500. In 2016, they were just plain awful.
How bad? They had the worst record in the I.L. (61-82) and the second-worst in AAA (Omaha was 58-82). Statistically, they had league-average pitching (3.96 R/G) and somehow weren't the worst-hitting team (3.55 R/G, Buffalo was 3.47) or the worst-fielding team (12th of 14 by FA; though dead-last in CS% at 22 percent). Even more surprising, Syracuse had a winning home record (37-34).
Somehow, there's a list of four players to highlight that can be extracted from this morass, five if you're disregarding stats, six if you're feeling generous (and looking the other way on age):
1. Koda Glover, RHRP — 1-1, 2SV; 2.25/2.92/0.79
2. Pedro Severino, C — .995FA, .226 GPA
3. Brian Goodwin, OF — .267 GPA, .438 SLG%, 14HR, 15SB in 119G
4. Austin Voth, RHSP — 7-9, 3.15/3.53/1.24 in 157IP
5. A.J. Cole, RHSP — 8-8, 4.26/3.96/1.33 in 22GS
6. Matt Skole, 1B/3B — .261 GPA, 24HR, 66BB in 140G
Folks interested in seeing the full stats can find them here.