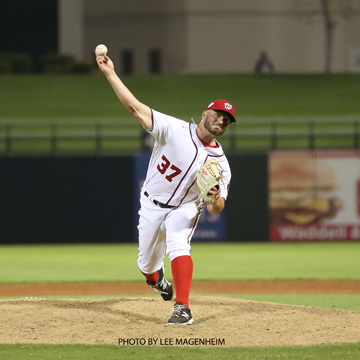 The AFL West put up four-spots in back-to-back innings as they cruised to a 12-4 win the 2016 Fall Stars Game.
Both Nationals representatives appeared in the game. Drew Ward started at 3B for the AFL West and batted cleanup while Ryan Brinley (pictured) appeared in the 9th.
Ward got the scoring with an RBI single in the 3rd and went 1-for-5 with a run scored for the game. He had one putout and one assist on defense.
Brinley gave up a home run to the first batter he faced, then walked the second batter before he was lifted for another reliever. He threw nine pitches, but just three were strikes.
The AFL resumes play tomorrow with the Desert Dogs rematching against the Javelinas. Glendale is on a four-game win streak while Peoria has dropped its last two. Two and a half games now separate the two teams as they enter the last full week of play.