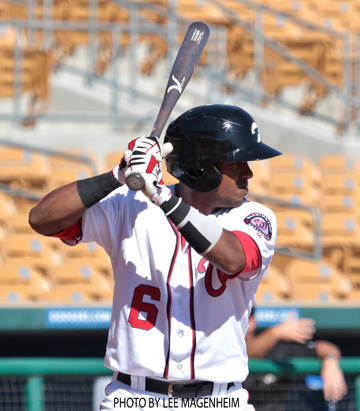 It's now a winning streak as Glendale took its third straight, 2-1 over Scottsdale, yesterday afternoon.
Austin Voth turned in a more Voth-like outing — 5IP, 3H, 0R, 2BB, 2K — to win for the frst time in five fall starts. He threw 65 pitches, 37 for strikes.
All three Nats position players got the start in their usual defensive positions.
Andrew Stevenson led off and went 1-for-3 with a walk and had one putout in center.
Drew Ward batted second and was hitless for the first time this fall. He combined with Voth on a 1-5 DP in the 3rd and started a 5-4-3 DP in the 6th.
Osvaldo Abreu singled twice and scored a run while batting from the No. 7 slot in the lineup. He also took park in double play (there were four total) taking a relay from left field to gun down a runner at the plate.
Jake Johansen also appeared in the game, retiring the only batter he faced to get the last out in the 7th.
The last-place Desert Dogs finish the shortened week with a trip to Peoria this afternoon to visit the first-place Javelinas.