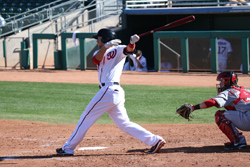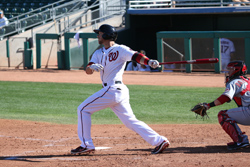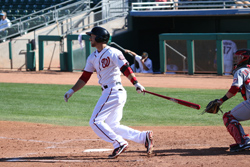 Steven Souza Jr. homers off Alex Meyer in the 2nd inning to give Mesa the early 2-0 lead (Photo Credit: Lee Magenheim)
The race for the Arizona Fall League East Divison title will come down to the final day of the season, as Mesa edged Glendale, 3-2 and Salt River paddled Scottsdale, 8-5.
Steve Souza's two-run blast was the catalyst for the victory and came off former teammate Alex Meyer in their first matchup as opponents, as the two never faced each other this season in the Eastern League. It was the sole hit for the 24-y.o. who finished the game at 1-for-4 with a strikeout and extended his hit streak to seven games.
Matt Skole also appeared in the game, playing third base where he had a putout and two assists. He would score what would prove to be the decisive run a fourth-inning triple that the Desert Dogs misplayed into a Little League HR with an error. Skole also singled in the 2nd inning to go 2-for-3 for the game with a walk and a strikeout.
Richie Mirowski gave up the first Glendale run in the 5th on a double, wild pitch, and a sacrifice fly but struck out two of the final three batters he faced. It was just the third run he's allowed in nine appearances this fall.
The win, which was Mesa's fifth straight, improved the Solar Sox to 18-11-1 but just a 1/2 game better than the 18-12 Rafters. In head-to-head play, Salt River has defeated Mesa four times in six games. An 11-inning-tie between the Solar Sox and the Desert Dogs on Opening Day is what separates the top two teams in the AFL East.
As speculated earlier this week, Sammy Solis will be given the start today as Mesa visits Glendale for the season finale. A Solar Sox win or a Rafters loss will clinch a spot in the AFL Championship game, which will be held Saturday in Scottsdale against the AFL West-winning Surprise Sagauros.