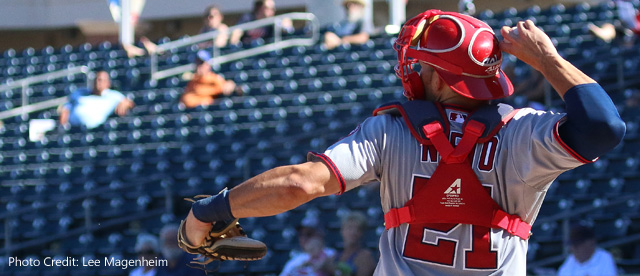 The Solar Sox scored early and often, scorching the Javelinas by an 8-1 count for their fourth straight win.
Mesa's victory was only enough to keep pace with Salt River, which took a 7-2 decision from Glendale for their fifth straight trimuph to remain just a ½ game back in the AFL East.
Adrian Nieto was the sole National to appear in the game. The 23-y.o. catcher batted eighth and went 1-for-3 with a walk, an RBI, and two runs scored to improve his line to .279/.360/.349 in 12 games played.
Defensively, Nieto let up his second passed ball (which accounted for Peoria's lone run) and recorded nine putouts, including the tag on a 6-3-2 double play in the 8th inning as Delino DeShields Jr. tried to score from second on the grounder with no outs.
It's the final home game this afternoon for the Solar Sox, as they send the tireless "TBD" to pitch against the Desert Dogs and former Nats farmhand Alex Meyer. Salt River travels to last-place Scottsdale in the evening.