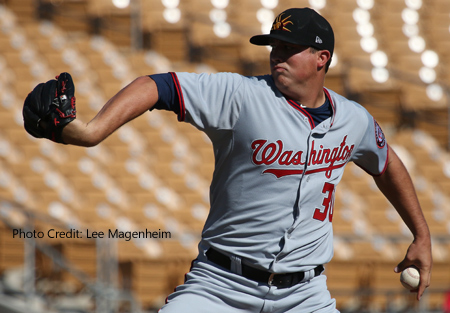 Mesa's 2013 Arizona Fall League season began and ended in Glendale, and Sammy Solis was on the hill for both the 1st and title-clinching 19th wins as the Solar Sox scorched the Desert Dogs, 9-3 to earn a berth in the AFL Championship game.
The 25-y.o. southpaw allowed one run on six hits over five innings to notch his league-leading fifth win. He walked none and struck out four, throwing 68 pitches, 49 for strikes. His 29 K's also led the circuit.
Brian Goodwin and Adrian Nieto were also in the starting lineup for Mesa.
Goodwin was the DH and went 1-for-4 with a double and a run scored, as the 23-y.o. North Carolina native came in from second base on an infield single that the shortstop knocked down just past the infield grass. He also walked and struck out twice.
Nieto caught and batted seventh. He went 1-for-5 with an RBI single and made seven putouts and one assist on a dropped third strike.
Mesa finishes the season at 19-11-1, winning their last six games consecutively to edge Salt River, which fell a half-game short at 19-12 and were winners of seven straight. Surprise was the AFL West title winner with a mark of 18-12-1.
The Solar Sox will face off against the Saguaros, who will send Baltimore prospect Eduardo Rodriguez to the mound in tomorrow's AFL Championship game. Matt Purke, who has not pitched since last Saturday, is among the possibilities for Mesa, which has not yet announced its starting pitcher.