AFL/Offseason Update: Nov. 8, 2023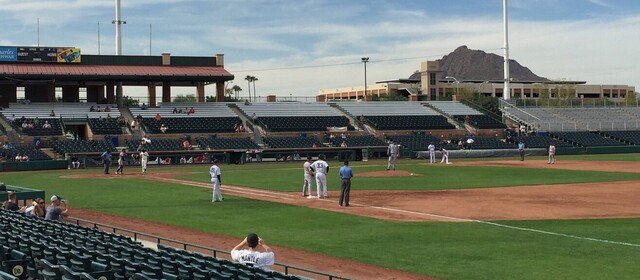 Scottsdale rallied from deficits of 7-0 and 9-8 to eke out a 10-9 win and clinch a spot in Friday's play-in game for the AFL Championship.
Trey Lipscomb, who started at first base and batted seventh, smacked his first fall HR and drove in three while going 2-for-4 to lead the Scorpions offense. On defense he had six putouts with no assists and no errors.
Robert Hassell was the No. 8 batter and started in left field, where he snagged two flyouts. At the plate, he went 1-for-4 with a run scored and two whiffs.
Israel Pineda caught the game and batted fifth, going 0-for-3 with a walk and a run scored. In the field, he was 1-for-3 gunning down the Javelina basestealers.
Orlando Ribalta picked up the (dreaded) blown-save-win as he let in two runs on three hits (one HR) while issuing neither a walk nor getting a strikeout. It was his fourth win and first blown save of the fall.
The Scorpions (15-13-1) are off until Thursday, when they close out the AFL regular season with a night game against the last-place Solar Sox (12-16).
2023 Harrisburg Senators
The '20s malaise continues on City Isle, as the Harrisburg Senators passed the tests to be foster parents with flying colors, particularly the part about no hitting. Even with the fortifications of James Wood, Brady House, and the '23 Draft Picks, the Nats' AA entry scored fewer runs in the second half than in the first.
As promised, the biggest surprise was that of Trey Lipscomb, who was bumped up from Wilmington despite mediocre numbers and proved the P.D. folks right when he went from a line of .251/.311/.387 in 49G to .284/.310/.438 in 80G.
Likewise, though to a far lesser degree, was Jackson Rutledge's performance finally starting to match his potential, as Washington's #1 pick from 2019 won six of 12 starts for the Senators on his way to DC to make four starts for the Big Nats in September.
Like the '22 edition, Harrisburg finished last in runs scored, RBIs, HRs, SLG%, and TBs. The seven-game improvement was almost entirely due to pitching and defense (#1 in FPct. fewest PBs and highest CS%), though the Senators converted just 35 of 59 save chances. Overall, the team allowed the third-fewest runs in the Eastern League and kept the ball in the yard despite FNB Field being a HR park (PF 113 where 100 is average).
Thanks to the aforementioned influx of talent in the second half, the team was just a tick above the league average for age – 24.5 vs. 24.4 for the pitchers, 23.8 vs. 23.7 for the batters. The question going into the offseason, how many of them will return Harrisburg?
It's been more than a decade (2011) since there were enough batters and pitchers to justify separate lists, and even then, it was four of each. Since then it's been a list of eight for most years, then list of six. That's the number we're going to have again. But I'll throw you guys a bone and rank 'em this time:
| | |
| --- | --- |
| 1. James Wood, OF | .248/.334/.492, 18HR, 124K in 80G |
| 2. Jackson Rutledge, RHSP | 6-1, 0SV; 3.16/3.73/1.19, 5HR in 68⅓ IP |
| 3. DJ Herz, LHSP | 2-2, 0SV; 2.55/2.60/1.13, 6.1 BB/9IP in 35⅓ IP |
| 4. Mitchell Parker, LHSP | 9-6, 0SV; 4.20/3.52/1.35, 10.45 K/9IP in 25G, 23GS (113⅔ IP) |
| 5. Trey Lipscomb, 3B | .284/.310/.438, 10HR in 80G, 3E in 76G (all four IF pos.) |
| 6. Tyler Schoff, RHRP | 1-1, 6SV; 3.05/3.35/1.27 in 22G (26⅔ IP) |
If I were in full BA mode, I would have listed both Jacob Young and Brady House again. That might be a bit of a disservice to House, who was a legit three-level player and actually younger than Wood.
Instead, I chose to repeat Wood to honor what was a strong two-level season, even if the K rate is concerning. Likewise, you'll note that I bolded Lipscomb's OBP (yeah, you know me) which has been below-average for his entire pro career.
Folks interested in seeing the full team's stats can find them here. Pitching data can be found here.