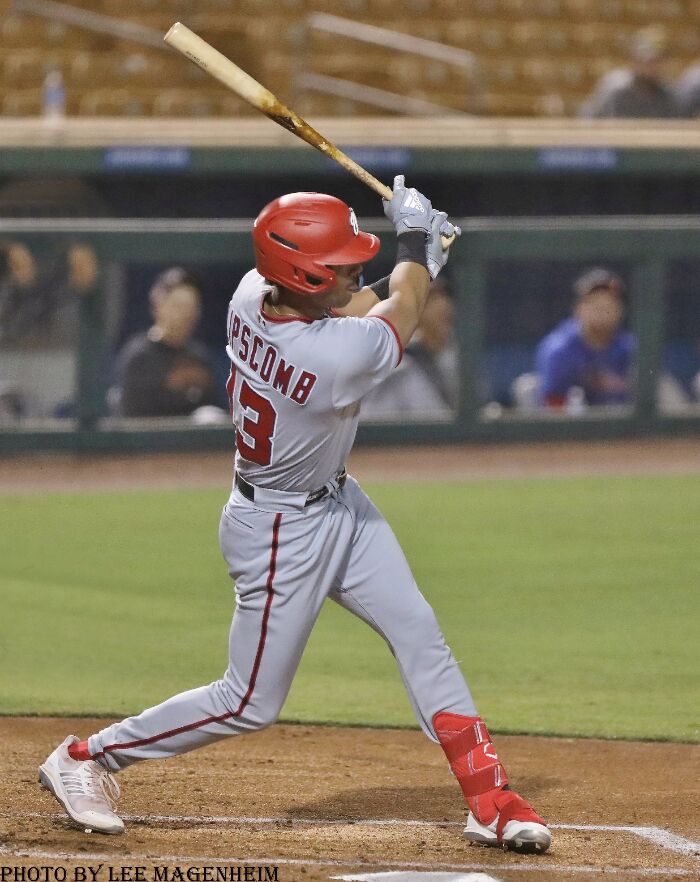 Scottsdale scored single runs in the 5th and 6th innings to take a 2-0 lead before giving 'em both back in the 7th for a 2-2 tie. The Angels' Adrian Placencia homered to lead off the 8th to give the Scorpions the eventual 3-2 win.
Trey Lipscomb (pictured above) was the sole Washington National to appear in the game. He played batted fifth and went 1-for-4 with two whiffs while making two assists.
Scottsdale returns home to host Surprise tonight. Thad Ward is not listed as the starter, though it is possible he may start tomorrow if the Scorpions are using a six-man rotation to spread the innings and keep the starters well-rested.
I WILL NEITHER CONFIRM NOR DENY I HAVE BEEN CONTACTED TO REPLACE THE FIRED P.D. STAFF
As noted in the comments—and reported earlier this week by the Washington Post—the Nationals have let eight more people go from the minor-league operations.
Perhaps most notable among the departures are longtime coach/coordinators Troy Gingrich and Michael Tejera. Both became coaches immediately after their retirement as players following the 2003 and 2010 seasons, respectively.
Four of the eight coaches known to have been fired were on the batting side, which makes sense because most of the affiliates were good candidates to be foster homes because there was so little hitting (*rimshot!*). While cost-cutting in preparation for the sale of the team may still be a factor, it's hard to argue against the inference that Washington is cleaning house.
Ultimately, there is the chicken-and-egg question: Was the failure because the coaches didn't improve the players or was the failure due to poor drafting? It's hard not to notice that 20% of the current Top 30 were drafted by other teams.
But I tend to lean towards the latter being a bit of a copout. Even in the New World Order (where there are fewer roster-fillers), it's still the job of P.D. folks to make the most of what they're given. And it's hard to say that that happened very often.
And to close the loop referenced in the headline, I don't think my coaching prowess exceeds Charles Le Mar on skiing.