AFL/Offseason Update: Oct. 31, 2023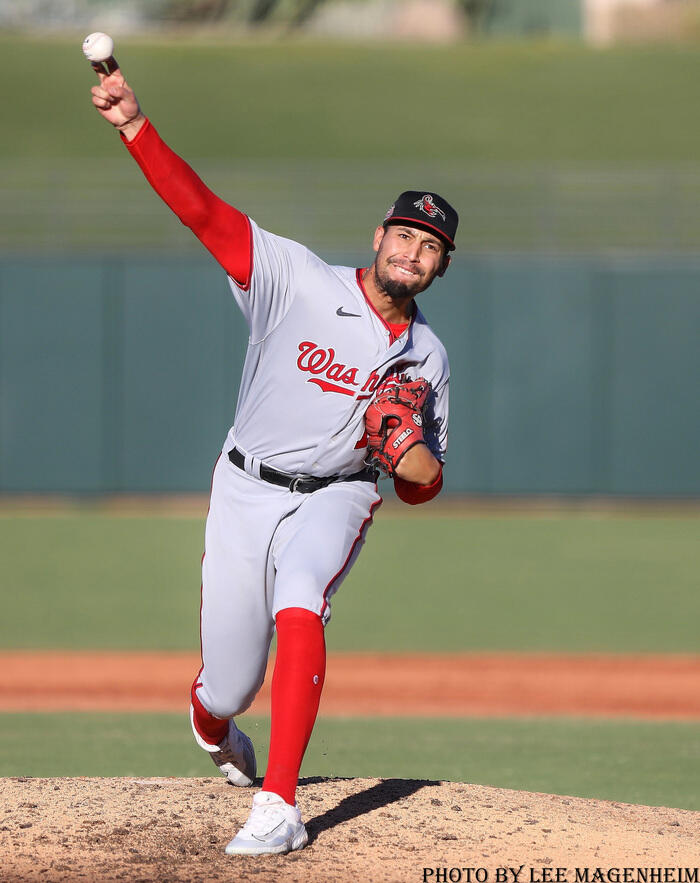 Scottsdale took another early lead only to see it go buh-bye in the middle innings as the Scorpions dropped their third straight, 5-3.
Four Nationals appeared in the game:
Trey Lipscomb shifted across the diamond to play first base, where he handled all six chances without an error. At the plate, the 23-y.o. went 1-for-4 with an RBI double and a run scored.
Orlando Ribalta made his sixth appearance but retired just two of five batters faced (albeit by way of the K), as he was charged with an earned run while issuing three walks.
Holden Powell got the last out for Ribalta in the 6th, allowing one of three batters to score, then retiring the side in the 7th.
Jack Sinclair pitched a 1-2-3 eighth with one whiff.
Scottsdale (12-11-1) returns home to play Peoria (12-10-1) this afternoon.
2023 Wilmington Blue Rocks
The Wilmington Blue Rocks flirted with .500 and relevancy for almost two months before finishing 5th (out of six) in the first half, sixth in the second half, and 20 games under .500 for the season as a whole.
Unlike the FredNats, the Blue Rocks were mostly a pitstop for the pre-existing prospects in 2023 (e.g., Brady House for 16G, James Wood for 42G) and definitely one for the 2023 Draft picks like Yohandy Morales and Andrew Pinckney, both of whom played just 18 games in Delaware before moving on to Pennsylvania.
Otherwise, the word that comes to mind is "disappointment." As is always the case when following prospects, how much of that is because of the gap between what the cheerlead…er, the Top XX lists from Baseball America and MLB Pipeline say and what we saw in the boxscores is always a good question to ask. Still, more and better things were expected from players such as T.J. White and Jeremy De La Rosa.
But let's instead focus on the pleasant surprises that were Andrew Alvarez and Jacob Young*. Alvarez tied with teammate Kyle Luckham with IP (129⅓ IP) and led the organization's starters with a 2.99 ERA. Young, on the other hand, made it all the way to The Show while showing even better on-base skills at A+ and AA and decent pop at MLB (with the usual Sept/SSS caveat).
* I'll get to Lipscomb next week for reasons that should be obvious.
Overall, the Wilmington's batters were just a shade older than league average (22.3 vs. 22.2) but in terms of production, they were dead last in the Sally Lg. at 4.08 R/G (4.90 was Lg. Avg.). The pitchers, on the other hand, were much older (23.5 vs. 23.1) and a notch below average (5.03 vs. 4.90) and dead last in strikeouts while issuing the second-fewest walks and the fourth-fewest HR's.
Defensively, the team was just about average in terms of FPct. with the catchers throwing out 29% of would-be basestealers, though like the shorties and the Freddies, teams did not run against the Blue Rocks very often (second fewest SB's allowed) because they didn't need to (second most wild pitches allowed).
Without further ado, here are the obligatory Top 5's in terms of production:
TOP 5 BATS
TOP 5 ARMS
1. James Wood, OF
.321 GPA, 8HR, .580 SLG% in 42G
1. Dustin Saenz, LHSP
1.97/2.90/0.99, 2HR in 50⅓ IP
2. Matt Suggs, C
.287 GPA, 5HR, .509 SLG% in 33G
2. Tyler Schoff, RHRP
3.37/3.13/1.12, 13.76 K/9IP
3. Will Frizzell, 1B
.281 GPA, .395 OBP in 76G
3. Marlon Perez, LHRP
2.97/3.32/1.18, 11.37 K/9IP
4. Murphy Stehly, 3B
.278 GPA, .382 OBP in 33G
4. Andrew Alvarez, LHSP
2.61/3.42/1.16, 4HR in 103⅓ IP
5. Jacob Young, OF
.273 GPA, .383OBP, 22SB in 56G
5. Brad Lord, RHSP
3.56/3.52/1.26, 8.37 K/9IP
Full disclosure: I probably should have skipped some of these guys due to sample size or that I'll most definitely (and hypocrtically) double-dipping next week. But if I didn't I'd be including two guys (Lipscomb and De La Rosa) who weren't even league-average.
Seven of these 10 were old for the level, which is not unusual for the Nationals given its propensity until recently to draft collegiate players in general and more than a few college seniors. Like Matt Suggs, who somehow got less reps than Caleb Farmer despite being younger and more productive on offense.
Once again, there are no honorable mentions since the gap between the #5 and #6 position is more like a chasm. Folks who are interested in seeing the full team statistics can find them here. Pitching data can be found here.