AFL/Offseason Update: Oct. 24, 2023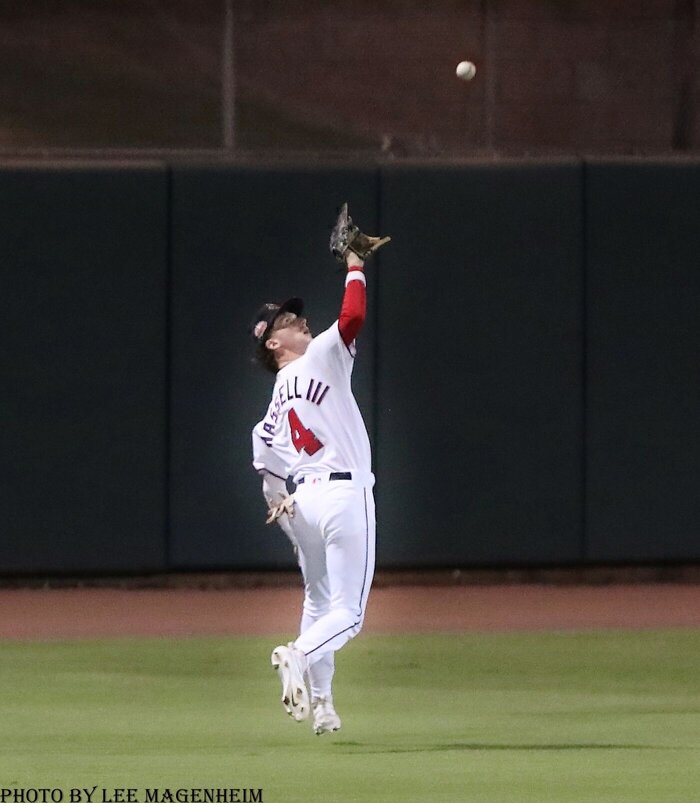 A 4-0 lead was far too small for the Scorpions 'pen to hold as they allowed nine unanswered runs for a 9-4 loss to the Desert Dogs.
Three Nationals appeared in the game:
Robert Hassell (pictured above) started in left field and had two putouts on defense. At the plate, he was 0-for-2 with two walks.
Trey Lipscomb shifted across the diamond to play first base where he had two unassisted putouts. He was 2-for-4 at the plate with popup-turned-into-a-double and a run scored.
Holden Powell was the first man out of the 'pen and let in both runners he inherited in the 4th, then gave up a two-run HR in the 5th. He allowed four hits total, walked one, and struck out three.
Scottsdale (11-7-1) visits Mesa (6-13) tonight.
2023 Fredericksburg Nationals
Until the draft, Fredericksburg is where most of the excitement for the system was for 2023. Having grown up with the Red Sox of the 1970s, a team that was first in the league offense and dead last in pitching was by no means new to me.
Somehow, the FredNats outperformed their pythagorean projection (62-66) to finish just above .500 (65-63) and even made a run at the second-half title. Thanks to the travel-weighted schedule, Fredericksburg never played the two teams that finished above them, which in theory should have benefited them as they mostly played the also-rans.
But for all the promise fulfilled (Brady House, Daylen Lile) there were some disappointments (Elijah Green, Armando Cruz) and, as always, the usual surprises from old-for-the-level guys (Murphy Stehly, Johnathan Thomas).
The less said about the pitching the better. More than three dozen pitchers were used, but just three made more than 10 starts (Riley Cornelio, Jarlin Susana, Luke Young). Only two of those made appearances in both April and September (Cornelio, Young). Only one was age-appropriate to the level (Young). The rest were largely guys from the D.R. who may have otherwise finished their careers at Auburn in the Before Times™.
As aforementioned, the influx of talent from the 2023 Draft gave the FredNats cameos from Dylan Crews, Andrew Pinckney, and Yohandy Morales and social promotions for Cortland Lawson and Sammy Infante to Wilmington. True promotions were very scarce: Lile and Jake Bennett without a doubt; Branden Boisserie if you ignore that he was replacing the demoted Leandro Emiliani.
Overall, both the hitters and throwers were older than the league average – 21.5 vs. 20.9 for the former, 22.0 vs. 21.6 for the latter. Defensively, the team was a shade below average in the field (.966 FA vs. .969) but better than average behind the plate, throwing out 27% of the basestealers (vs. 24%) and allowing the fewest wild pitches and fourth-fewest passed balls in the Carolina League.
Thirty-five batters and 43 pitchers were used, so the cutoff to make this list was 100PA and 20IP respectively.
TOP 5 BATS
TOP 5 ARMS
1. Daylen Lile, OF
.299 GPA, .381 OBP, 7HR, 7-3B, 21SB in 66G
1. Jake Bennett, LHSP
1.93/2.54/1.00, 11.57 K/9IP
2. Brady House, 3B
.291 GPA, .369 OBP, .500 SLG in 36G
2. Marquis Grissom Jr., RHRP
2.18/3.29/1.11, 1HR in 41⅓ IP
3. Max Romero, C
.296 GPA, .420OBP, 42BB in 54G
3. Jose Atencio RHP
5.37/3.39/1.63, 9.95 K/9
4. Cortland Lawson, 2B/SS
.270 GPA, .396 OBP, 21E in 54G
4. Erik Tolman, LHSP
3.15/3.20/1.25 in 20IP (6GS)
5. Marcus Brown, SS/2B
.262 GPA, 15BB, 24RBI in 28G
5. Matt Merrill, RHRP
3.04/3.66/1.44, 14.83 K/9IP
Once again, there are no honorable mentions. Basically, these are the guys who both hit the statistical cutoffs and were better than league average. It's really hard to make the case that anyone was left down here too long. Lile we know we was coming off surgery (TJ); House we suspect was coming off surgery (back?).
As always, if you're interested in perusing the full team statistics, you can find them here. Pitching data can be found here.