AFL/Offseason Update: Oct. 29, 2022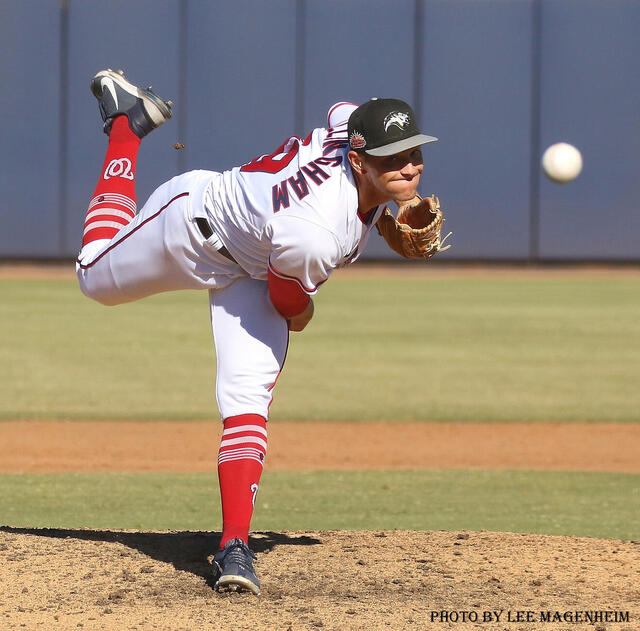 A pair of home runs in the bottom of the 2nd put Peoria up 3-0 as they rose above the .500 mark with a 5-1 win in seven innings.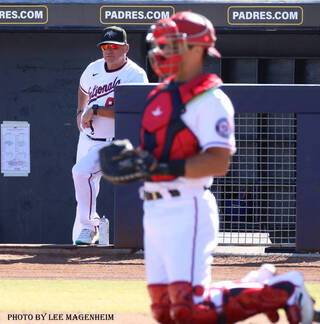 Drew Millas, under the watchful eye of coach Tim Doherty, returned behind the plate but was 0-for-3 at the plate and 0-for-3 in throwing out basestealers.
Orlando Ribalta kept his perfect Fall ERA at 0.00 with another scoreless inning, striking out one while facing the minimum in the 5th inning.
Amos Willingham lost the Javelinas' shutout with the lone run let in on a double, single, and a sacrifice fly in the 7th, which inflated his Fall ERA to 6.14.
Peoria closes out the week with an afternoon tilt against Salt River. Tim Cate is expected to get the start.
# # #
2022 WILMINGTON BLUE ROCKS
In years past, when the High-A team was Potomac and the Low-A team was Hagerstown, if the former was struggling and the latter was not there was always a certain sense of hope that there'd be reinforcements for the second half, and maybe they'd put together a run and make the playoffs.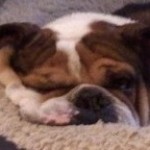 You might be surprised to learn (or be reminded) that Wilmington finished higher than Fredericksburg in the first half – 35-30 vs. 33-33. There were indeed some callups, albeit much later than usual, but the Blue Rocks flipped their record in the second half to finish at .500, 65-65.
That's because the "new guys" struggled at High-A: Jeremy De La Rosa went from a .899 OPS to .544; Rodney Theophile went from a 2.57 FIP to 5.00, just to name two. Simultaneously, the Blue Rocks "lost" three of their best hitters in late July and a fourth in mid-August. Lucas Knowles's surprising switch from reliever to starter wasn't enough to offset Dustin Saenz getting lit (5.99 FIP) like Snoop Dogg in the younger southpaw's 10 starts.
Overall, the team was fairly close to the Lg. Avg. (22.8 vs. 22.5 for the bats; 23.3 vs. 23.0 for the arms) in age. The pitching was among the league's best, averaging 4.16 R/G vs. 4.90. Conversely, the offense was among the league's worse, averaging just 4.28 R/G.
Much like Fredericksburg, Wilmington's defense improved dramatically from 2021, going from 11th to 5th in FPCt. and tied for the league lead with the fewest passed balls and allowed the second-fewest stolen bases while throwing out runners at a 28% clip (lg. avg. 23%).
Also like the FredNats, playing time was widely dispersed among the Blue Rocks, with only a handful of players playing in more than half the games or pitching more than 50 innings. Again, with some obvious caveats and exceptions, here we go with the obligatory Top 5's…
TOP 5 BATS
TOP 5 ARMS
1. Israel Pineda, C
.257 GPA, 8HR, 39% CS Rate in 67G
1. Tyler Yankosky, RHRP
1.78/2.47/0.96, 0.30 BB/9IP
2. Onix Vega, C
.263 GPA, .376 OBP in 66G
2. Amos Willingham, RHRP
3.41/2.76/1.19, 10.49 K/9IP
3. Darren Baker, 2B
.242 GPA, 10SB, 7E in 62G
3. Mitchell Parker, LHSP
2.88/3.75/1.43, 10.53 K/9IP, 6.03 BB/9IP
4. Omar Meregildo, 1B
.275 GPA, 15HR, 6E in 81G
4. Lucas Knowles, LHP
3.19/3.89/1.06, .656 OPS as a starter, .549 as a reliever
5. Yasel Antuna, OF
.260 GPA, 10HR, 72BB, 26SB in 99G
5. Seth Shuman, LHSP
3.23/3.85/1.16, 2.05 BB/9IP
Why is Omar Meregildo so low on the list? It's his third year at the level. But on a team that couldn't hit, I couldn't leave him off. As you might've guessed, I'm valuing defense over offense as well as age. Had Antuna not made Chris Marrero look like Rickey Henderson in LF, he'd have been ranked above Meregildo.
Fair or not, both Tim Cate and Jake Irvin were old for level and/or repeating it. Both pitched more innings for Harrisburg. However, one of them may very well get ranked in what will most likely be a single list of six to eight players, depending on how charitable I'm feeling next week.
If you're interested in the full team statistics, you can find them here, and the pitching data here.