AFL/Offseason Update: Oct. 25, 2022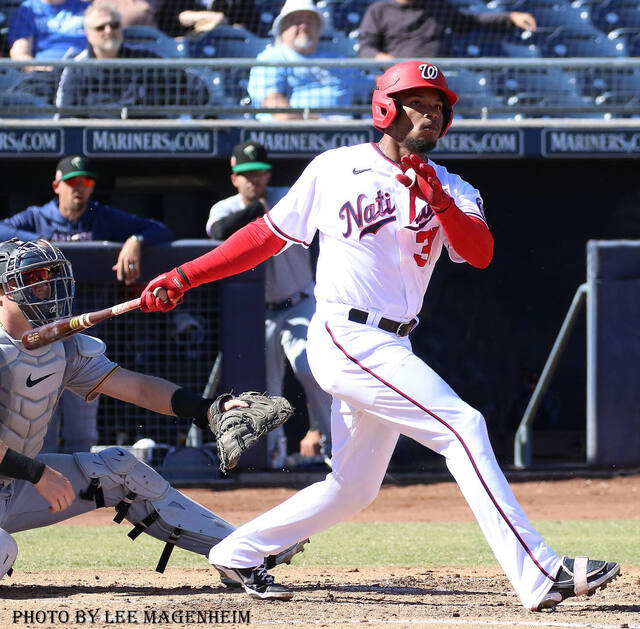 Peoria got single runs in the 1st and 6th and made it stand up for a 2-1 win over Surprise.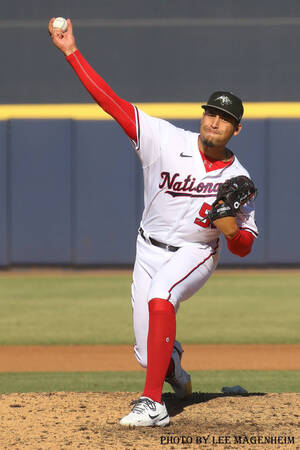 Four Nationals appeared in the game:
Drew Millas caught and batted sixth, going 1-for-4 with a strikeout. He was unsuccessfully defending two base thefts.
Yasel Antuna (pictured above) was the No. 8 hitter but was 0-for-3 with two whiffs and a GIDP. He played LF and had two putouts.
Orlando Ribalta (pictured to right) pitched the 8th inning and set the side down in order for his third hold.
Amos Willingham struck out the side in the 9th to earn the save.
The Javelinas (9-10) are off until tomorrow when they visit Glendale to play the Desert Dogs (9-8).
# # #
2022 DRAFT REPORT CARD FROM BASEBALL AMERICA
The Boys in Durham have weighed in on the early returns from the 2022 First-Year Player Draft.
Here are some of the highlights…
Best Pure Hitter – OF Jared McKenzie (5th Rd.)
Best Power Hitter, Defender, Fastest Runner, Athlete – OF Elijah Green (1st)
Best Fastball, Closest to MLB – LHP Jake Bennett (2nd)
Obligatory Legacy Fluffing – RHP Marquis Grissom Jr. (13)
Best Late-Round Pick – RHP Luke Young (11)
One That Got Away – SS JeanPierre Ortiz (20)
As per usual, there's no grade here… just a rundown of what the front office had to say about the picks and how they did in a small sample size.