AFL/Offseason Update: Nov. 9, 2021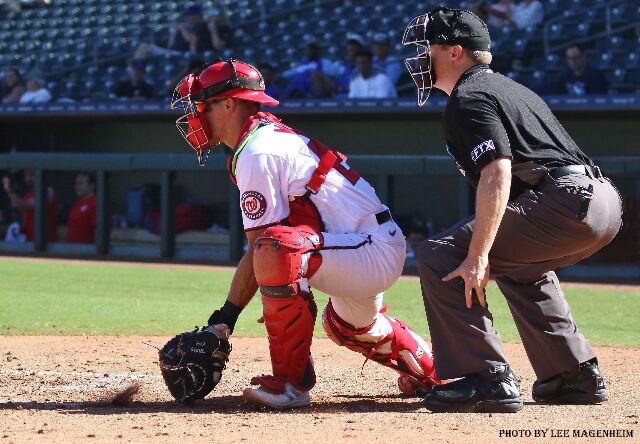 The Rafters paddled Jackson Rutledge for runs in each of their first three "ups," but the Sagauros were able to cover for him for a 4-3 win in seven innings.
Rutledge settled down to put up a goose egg in the 4th and got the first two outs in as many batters before giving up a walk and a single. The Yankees' Clay Aguilar stranded those two and kept Salt River from coming ashore across with the tying runs in the last two frames to earn the save.
Rutledge was awarded the "W" for his line of three runs allowed on four hits (one HR) and two walks over four and 2/3rds innings. He threw 67 pitches, 47 for strikes while notching two strikeouts.
Donovan Casey and Drew Millas (pictured) were the two Nationals in the Surprise starting lineup.
Casey led off and played CF but was 0-for-3 with a strikeout and four putouts in the field.
Millas had a single and RBI in three trips to the plate but was caught stealing for the first time. He did the same from behind the dish and got a second assist at third base nailing a runner trying to advance to third base on an RBI double.
The Saguaros (14-8) head back out on the road to face Scottsdale (8-15) this afternoon. The win, coupled with a loss by Glendale, puts Surprise back in 1st place in the AFL West by one game.
# # #
While most of the focus is, understandably, on the big club that is his "beat," Jess Dougherty of the Washington Post had an interesting story yesterday of the "coaching shuffle" that has sent longtime coaches Randy Knorr and Bobby Henley back to the minors while Sam Narron has been named the replacement for Brad Holman, who was fired along with Larry Pardo for refusing to get vaccinated.
You may also recall that four coaches were also sent packing after the majority of the minors had wrapped up, which begs the question: Who else may not be here at the point when the Nationals announce their 2022 coaching staffs.
Dougherty also reports that two longtime instructors – Troy Gingrich and Michael Tejera – have been named "lower-level coordinators," (hitting and pitching, respectively) which suggests that more coaches are coming and presumably from outside the organization. But here's the true money shot:
This is an important step for a system that, for years, has been underfunded and understaffed.
In looking back on this site's stories about the minor-league coaches, one of the leitmotifs seemed to be "continuity," particularly after the Matt Williams debacle. However, in 2021, the theme seems to be "we don't need no water, let the mother[lover] burn."