AFL/Offseason Update: Nov. 10, 2021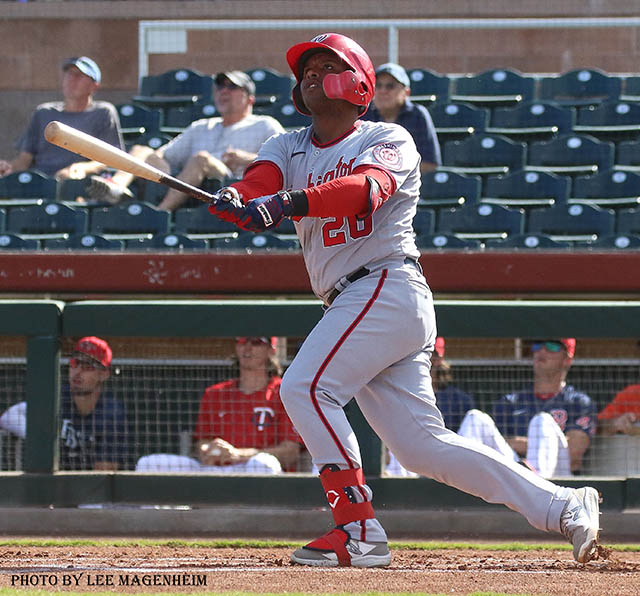 Surprise pushed across a single run in the 4th but the Sagauros 'pen needed more as they were walked off in the 9th for a 2-1 loss to the Scorpions.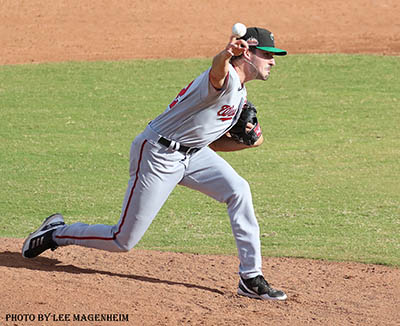 The Nats had two position players sandwiching the ends of the lineup while Cole Henry appeared in long relief.
Jackson Cluff led off and played shortstop. He walked once and struck out twice while going hitless in four plate appearances. In the field, he had one assist.
Israel Pineda (pictured above) was the Surprise DH and went 1-for-3 with one whiff to maintain his .333 fall batting average.
Henry bounced back from Friday's poor outing to toss four scoreless innings, giving up three hits and a walk while fanning seven to reclaim the league lead with 30 strikeouts in 19 innings pitched.
The Saguaros dropped back into a tie for 1st place with the Desert Dogs with the loss. Surprise is off today but will face Glendale tomorrow afternoon.
# # #
MINOR LEAGUE FREE AGENCY
For the first time since 2019, we have a list of the two dozen or so guys who are parting ways with Washington. This is the six-year parole for the Nats' 2015 Draft class, which produced five MLB players – THREE for the Nationals.
RHPs – Tomas Alastre, Dakota Bacus, Joan Baez, Aaron Barrett, Bryan Bonnell, Bryan Dobzanski, Steven Fuentes, Kyle McGowin, Pearson McMahan, Diego Moreno, Carlos Navas, Ronald Peña, Luis Reyes, Jefry Rodriguez, Mario Sanchez
LHP – Nick Wells
C's – Juan Paulino, Raudy Read, Jakson Reetz
IFs – Humberto Arteaga, Ali Castillo, Aldrem Corredor, Osvaldo Duarte, Ian Sagdal
OFs – Rafael Bautista, Destin Hood, Daniel Palka, Rhett Wiseman
These are the declared free agents, according to Baseball America. With this being the offseason, it is possible that any omissions could mean that they were re-signed or that they were released, though this year MLB has been a LOT less coy about releases.