AFL/Offseason Update: Oct. 23, 2021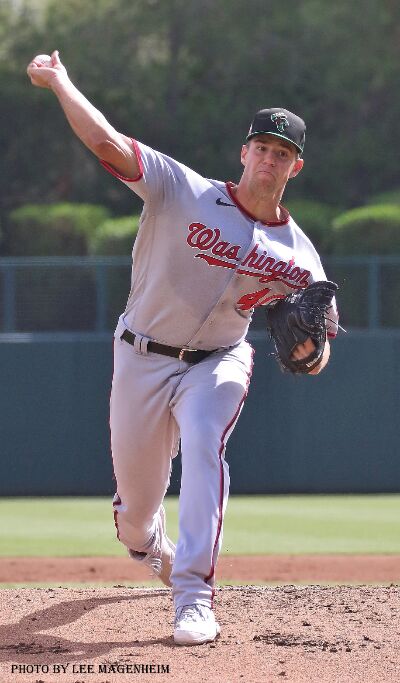 Jackson Rutledge was able to limit the damage early but faltered again late as Surprise saw its modest three-game win streak end with a 9-2 loss to Glendale.
Rutledge gave one in the 1st and four in the 5th and needed 70 pitches to get 12 outs. He was charged with the loss, along with five runs on seven hits (one HR) over four innings. The 22-y.o. walked three and struck out as many as you did (nada). This is where I have to give the obligatory reminder that Rutledge is facing AA competition without having mastered High-A hitters.
Evan Lee also pitched, working around a two-out infield single in the 7th while neither walking nor striking out a batter in his third appearance this fall.
Drew Millas was the sole Nats position player to appear, going 0-for-2 with two walks as the Sagauros catcher. He threw out the only Desert Dog to attempt to steal while racking up four putouts behind the plate.
#     #     #
THE 2021 FREDERICKSBURG NATIONALS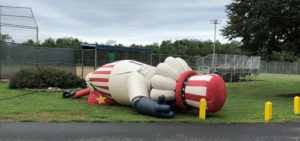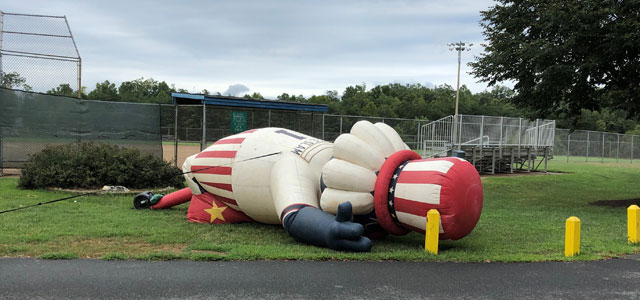 The cancellation of the 2020 season effectively turned the franchise's 1996-2018 stadium saga into an anticlimax. This was further compounded by the reorganization of the minor leagues, which saw the Hagerstown Suns eliminated, replaced by the Fredericksburg Nationals, and the decades-long histories of the Carolina League (1945-2019) and the South Atlantic League (1963-2019) folded into a new league known as the Low-A East.
COVID-19 protocols and a schedule built to minimize travel meant that the FredNats (OK, now I give in) would play just seven opponents – the other three teams in the North Division and the four in the Central Division – and just 12 games outside of Virginia and Maryland. It also meant that there would be no real Grand Opening.
This might have been just as well as Fredericksburg opened the 2021 campaign with 15 straight losses, nine of which came at FredNats Ballpark. Were it not for the futility of the Kannapolis Cannon Ballers (coincidentally, also opening a new ballpark), Fredericksburg would have been dead last in nearly every major statistical category, both offensive and defensive.
Some of this had to be expected, though everyone in the Low-A East had the same impediment. Less than a dozen of the 66 players used had had full-season experience. Less than two-dozen had had short-season experience north of Florida.
The team was pretty close to the league averages in age – 21.6 vs. 21.2 for the batters; 21.8 vs. 21.9 for the pitchers. The batters mustered 4.16 R/G (5.21) while pitchers gave up 6.15 (5.21). Believe it or not, they actually outperformed their Pythagorean projection of 39-81.
The FredNats committed the most errors (172 in 120G) and had the lowest fielding percentage (.960)*. The catchers were slightly better than the lg. avg. in throwing runners out (26% vs. 22%) but were second-to-last in both passed balls and wild pitches prevented.
* For the sake of comparison, the Sally League lows in those two categories were 161 in 140G and .969
I'll close with obligatory Top 5's even though this was the first season I was not a season-ticket holder. But I did attend several games as a member of the press so it's not entirely sight unseen.
TOP 5 BATS
TOP 5 ARMS
1. Ricardo Méndez, OF
.266 GPA, .353 OBP, 55RBI, .977 FA
1. Mitchell Parker, LHSP
4.08/4.08/1.19, 13.34 K/9IP
2. José Sánchez, IF
.248 GPA, .358 OBP, 41BB in 73G
2. Michael Cuevas, RHSP
4.48/4.53/1.28, 8.1 K/9IP, 2.9 BB/9
3. Kevin Strohschein 1B-DH,
.244 GPA, 11HR, .443 SLG%
3. Matt Merrill, RHRP
4.66/3.35/1.40, 6-1, 13.79 K/9IP
4. Geraldi Diaz, C
.242 GPA, 20BB in 40G, 10E in 38G
4. Gilberto Chu, LHP
2.79/4.43/0.97, 7.26 K/9
5. Onix Vega, C
.236 GPA, 34BB in 71G, 15PB in 59G
5. Amos Willingham, RHRP
2.28/4.57/1.16, 81.3% LOB%
An honorable mention goes to Darren Baker, who posted a .318/.352/.394 in 18 games. The abundance of hitters posing as catchers remains a disturbing trend, but I think by now we have to become accustomed to that the Nats seem to think that they can teach hitters to catch instead of vice-versa.
As noted in the comments, my gut feeling is the Cuevas is going to break out in 2022, though he may end up returning to Fredericksburg in April. The expectation that players who had good years will automatically move up a level a year should probably be tempered. I have a feeling that at this level and below, repeats are about to become more common.
Folks interested in perusing the 2021 FredNats stats themselves can find them here. Pitching data can be found here