Team
Yesterday
Today
Pitching Probables
Rochester
Lost, 9-7
vs. Worcester, 7:05 p.m.
Je. Rodriguez (1-0, 7.56) vs. Gossett (6-3, 4.64)
Harrisburg
Lost, 6-5
@ Erie, 6:05 p.m.
Carrillo (0-1, 4.58) vs. TBD
Wilmington
Lost, 5-0
Cancelled
(Hurricane Ida)
N/A
Fredericksburg
Postponed
@ Salem, 7:05 p.m.
Rutledge (1-1, 5.79) vs. Drohan (5-3, 4.03)
FCL Nationals
Won, 2-0
@/vs. FCL Astros, 10 a.m.
DSL Nationals
Won, 4-0
OFF DAY
Worcester 9 Rochester 7
• Braymer 5IP, 5H, 3R, 3ER, 2BB, 6K, WP
• R. Peña (BS, 3; L, 0-1) 1IP, 2H, 3R, 3ER, 2BB, 1K, WP
• Casey 3-5, R, 2B, HR, 2RBI
• Castillo 3-4
Rochester rallied for five in the 6th to take a 7-3 lead but fell apart in the late innings to lose, 9-7 to Worcester. Ben Braymer kept the ball in the yard, which usually is enough to get the win (4-1 in five previous homerless starts), giving up three runs on five hits and two walks. Alas, Nick Wells got torched for three in the 7th and Ronald Peña matched the performance in the 8th for his third blown save and first loss. Donovan Casey was the proverbial triple shy of the cycle while Ali Castillo singled three times to lead the Red Wings' 11-hit parade. Roster moves: RHP Wander Suero, OF Andrew Stevenson recalled to Washington; OF Victor Robles optioned to Syracuse.
Erie 6 Harrisburg 5
• Cate 4⅓ IP, 8H, 4R, 3ER, BB, 3K, HR
• J. Romero (BS, 3; L, 2-4) 2⅓ IP, 1H, 2R, 2ER, BB, 4K, HR
• Teel 1BF, 1H, 0R, 0BB, 0K, 1-1 IR-S
• Harrison 2-4, R, 2B, 2RBI
• Lara 2-4
A two-out, two-run error gave the Senators a 5-4 lead, but the SeaWolves got the tying run in the 7th and walk-off in the 9th for a 6-5 win. Tim Cate failed to go five full for the fifth straight start, getting knocked from the box with one out in the 5th with four runs (three earned) allowed on eight hits (one HR) and a walk while striking out three. Jhon Romero got the blown save with two-out HR in the 7th and, after a 1-2-3 eighth, issued a one-out walk in the 9th. Carson Teel came on to preserve the tie but gave up a double to the first batter he faced, scoring the winning run. K.J. Harrison singled, double, and drove in two while Gilbert Lara singled twice to the Harrisburg offense. Roster moves: LHP Alex Troop promoted from Wilmington; RHP Andrew Karp placed on the 7-Day I.L.
Brooklyn 5 Wilmington 0
• Shuman (L, 0-3) 5IP, 7H, 5R, 5ER, 2BB, 1K, 2HR
• M. Peña 2IP, 0H, 0R, 1BB, 1K
• W. Perez 1-2, BB
• Martina 1-3, 2B
Three Brooklyn pitchers combined to shut out Wilmington, 5-0 on five hits. Seth Shuman continues to get knocked around (7.17 ERA), allowing all five Cyclones runs on seven hits (two HR) and two walks while striking out one (1) over five innings. It was his third loss in five starts for the Blue Rocks. Wilmer Perez, who took over for Israel Pineda after the 21-y.o. was dropped by a fastball to the helmet logo (he did walk off under his own power), and Drew Millas both singled and walked while Junior Martina doubled for the Blue Rocks' only extra-base hit. Roster moves: C Israel Pineda activated from the 7-Day I.L.; RHP Troy Stainbrook promoted from Fredericksburg.
Fredericksburg vs. Salem – PPD
The remnants of Hurricane Ida left the grounds too wet to play. They'll make it up with a doubleheader tomorrow. Roster moves: C-1B Raudy Read reassigned from FCL for MiLB Rehab; RHP Jackson Rutledge activated from 7-Day I.L.
FCL Nationals 2 FCL Cardinals 0
• Sinclair 2IP, 0H, 0R, 1BB, 0K, PO @ 1B
• Cronin (W, 1-0) 2IP, 2H, 0R, 0BB, 1K, WP
• Hiraldo (SV, 1) 3IP, 1H, 0R, 1BB, 5K
• Infante 3-5, R, 2B
• Lile 2-5, 2B
Four pitchers (including Pedro González!) combined to shut out the FCL Cards, 2-0 on four hits. 16th Rd. pick Jack Sinclair went the first two frames and issued just a walk. Matt Cronin allowed two hits but struck out one to get credit for the win. González walked two and gave up a single but had his second straight clean outing and third overall for the hold. Bernardo Hiraldo put on two baserunners over the final three but struck out five to earn the save. Sammy Infante singled twice and doubled once, scoring a run while Daniel Marte his his third HR to power the F-Nats offense.
DSL Nationals 4 DSL Cardinals Blue 0
• Leon 2IP, 2H, 0R, BB, K
• Atencio (W, 3-2) 5IP, 3H, 0R, 0BB, 9K
• Colmenares 2-3, 2R, 2B
• Contreras 1-1, 2R, 2B, 2BB
• Santana 1-2, 2B, 2RBI
# # #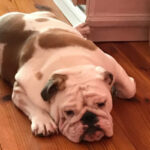 Thanks to everyone for the kind words in the comments yesterday. I really wish this kind of thing got easier, but it just doesn't. The one thing I would like to remind everyone: We got Lulu through a rescue. It's okay to adopt an older dog. As much fun as it's been to raise Boomer from a puppy, Lulu gave us just as much love and joy.