| | | | |
| --- | --- | --- | --- |
| Team | Yesterday | Today | Pitching Probables |
| Rochester | OFF DAY | vs. Worcester, 7:05 p.m. | Braymer (6-7, 5.57) vs. Hart (5-7, 4.39) |
| Harrisburg | OFF DAY | @ Erie, 6:05 p.m. | Cate (2-9, 5.97) vs. Hill (1-0, 1.80) |
| Wilmington | OFF DAY | @ Brooklyn, 7 p.m. | Shuman (0-2, 6.61) vs. Ginn (1-2, 5.16) |
| Fredericksburg | OFF DAY | @ Salem, 7:05 p.m. | Saenz (0-0, 3.00) vs. Drohan (5-3, 4.03) |
| FCL Nationals | Won, 10-0 | @ FCL Cardinals, 12 p.m. | |
| DSL Nationals | Won, 5-0 | vs. DSL Angels, 10:30 a.m. | |
Rochester Red Wings (43-55, 5th, 16GB, Northeast Div. AAA East)
The Red Wings won their fifth series of the season with a 3-2-1 mark against the last-place S-Mets. The Red Wings are now just a game out of fourth place. This week, it's six against the (ugh) WooSox, a team they've dominated thus far in 2021 with nine wins in twelve games. Roster moves: C Keibert Ruiz recalled to Washington; RHP Rogelio Armenteros released.
Harrisburg Senators (39-62, 6th, 23GB, Southwest Div. AA Northeast)
Harrisburg broke even again against Hartford to remain 23 games off the pace in the Southwest Division of the AA Northeast. This week, they make their penultimate road trip with six against Erie. Roster moves: RHP Steven Fuentes reassigned from Wilmington for MiLB rehab.
Wilmington Blue Rocks (44-57, 4th, 19GB, North Division High-A East)
A five-game losing streak tumbled the Blue Rocks back into 4th place and dropped them to 19 games off the pace set by the Renegades, who lead the division by 11½ games. This week, they're back in Brooklyn for six against the Cyclones.
Fredericksburg Nationals (37-65, 4th, 23GB, North Division, Low-A East
Fredericksburg put together a four-game win streak for the first time in 2021 last week against Carolina. This week they play Salem for the last time, as the Red Sox lead the season series 20-10.
FCL Nationals 10 FCL Mets 0
• Caceres (W, 3-0) 5IP, 1H, 0R, 2BB, 8K,
• Kirian (H, 1) 2IP, 0H, 0R, BB, K
• House 2-3, 2R, 2B, HR, 2BB, RBI
• White 2-4, 2R, 2B, HR, HBP, 2RBI
• Frizzell 2-5, 2R, HR, 2RBI
The FCL Nationals smacked four homers while four pitchers combined to shut out the FCL Mets, 1-0 on one hit. Bryan Caceres picked up his third win with five scoreless innings, the hit, two walks, and eight K's. Franklin Marquez, Michael Kirian, and Peyton Glavine combined for four no-hit innings of relief. Fifth Rd. pick T.J. White, 8th Rd. pick Will Frizzell, and Brian Klein each hit their first professional HR while Brady "He's A Brick" House went deep for the third time.
DSL Nationals 5 DSL Cardinals Blue 0
• Agostini 3IP, 2H, 0R, 0BB, 0K
• Cedeno (W, 3-0) 5IP, 2H, 0R, 0BB, 5K
• Colmenares 3-4, 2R, 2B, RBI
• Cruz 2-5
• Santana 1-3, R, RBI, SB
The D-Nats broke up the Star Trek Convention with two in the 7th and added three more in the 8th as three pitchers combined to shut out the D-Cards Blue, 5-0 on five hits. 17-y.o. Gabriel Agostini went the first three and gave up two hits, no walks, and struck out none. 19-y.o. Jose Cedeno went the next five to earn his third win giving up two hits, no walks, and fanning five. 19-y.o. Jose Colmenares singled twice, scored twice, doubled once, and drove in one to lead the D-Nats' eight-hit, four-walk attack.
# # #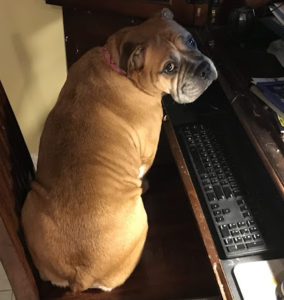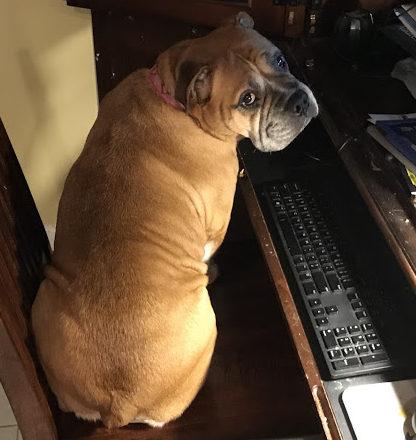 It's with a heavy heart that I pass along the news that we've lost another copyeditor. Louisville "Lulu" passed over the rainbow bridge yesterday, a little more than nine years after we brought her home. She'd been suffering from dementia for about a year and took a turn for the worse on Sunday night. Yesterday, she stopped eating and drinking and as anyone who owns a dog knows, that's never a good sign. She was somewhere between 11 and 12 years old.