From the Archives: August 3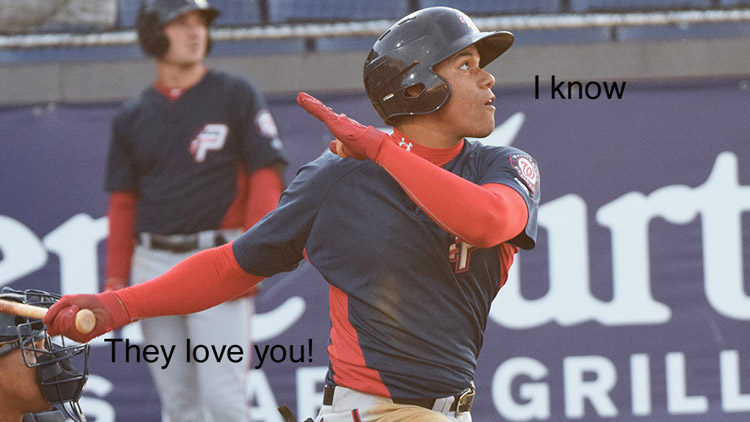 Juan Soto should be back in the lineup soon, just in time for the next two games to be delayed or postponed by rain! Meanwhile, Herr Manfred is threatening to shut down the season while simultaneously impugning the opt-outs by proclaiming he is no quitter (except maybe holding press conferences in which he may have answer difficult questions; none since February).
Syracuse 6 Pawtucket 5 (11 inn.) – 2017
• Simms 5IP, 7H, 4R, 4ER, 0BB, 4K, 2HR
• Adams (BS, 1) 1IP, 1H, R, ER, 0BB, 0K, HR
• Suero (W, 2-1) 2IP, 0H, 0R, 0BB, 0K
• Snyder 3-5, 2R, 2B, RBI
• Robinson 2-4, R, HR, BB, 3RBI
• De Aza 2-5, 2B
Clint Robinson's Earl Weaver Special highlighted a four-run 5th to take a 5-1 lead but the PawSox answered with three of their own to pull within one, then tied it in the 8th on a solo shot off Austin Adams. Irving Falu's single in the 11th broke the deadlock for a 6-5 win. John Simms started and went the first five but was knocked for four runs on seven hits, including two homers. BrAAAAndon Snyder let the Syracuse hit column with two singles and a double, followed by Robinson and Alejandro De Aza with two apiece.
Harrisburg 11 Richmond 2 – 2019
• Mapes (W, 5-5) 8IP, 7H, 2R, 2ER, BB, 10K, HBP
• Istler 1IP, 1H, 0R, BB, K
• Barrera 2-3, 3R, BB, HR, 2RBI
• Garcia 2-5, 2R
• Stevenson 2-5
Tyler Mapes set a career high in strikeouts while the offense broke into double digits in runs with just single digits in hits as Harrisburg pounded Richmond, 11-2. Mapes went eight innings and let in both Flying Squirrel runs on seven hits and a walk while fanning a 10 for his fifth win. Andrew Istler mopped up with a scoreless 9th, though he put on two runners. Rhett Wiseman hit a grand slam for his 14th HR at AA as the Sens scored seven times in the 3rd to put this one away early. Tres Barrera also went deep, walked, and singled and both Andrew Stevenson and Luis Garcia went 2-for-5 to lead the nine-hit, five-walk offense.
Potomac 6 Lynchburg 4 (11 inn.) – 2010
• Holder 2⅓ IP 6H 4R 4ER 2BB 0K
• McCoy (W, 2-1) 3IP 1H 0R 0BB 6K
• Rhinehart 3-5, 2R, 2-2B,
• Lombardozzi 3-6, 2R, 3RBI
A wild pitch plated Bill Rhinehart as the go-ahead run and sac fly off the bat of Steve Lombardozzi gave the P-Nats some insurance in the top of the 11th as they defeated the Lynchburg Hillcats 6-4. Starter Trevor Holder lasted just 2⅓ innings, but the Potomac bullpen was outstanding as Carlos Martinez (3⅔ innings), newly acquired Joe Testa (2 innings) and Pat McCoy (3 innings) combined to shut down the Hillcats, allowing three hits combined and striking out 11 the rest of the way. A 3rd Rd. pick in 2009, Holder was rushed to High-A that year and spent parts of four seasons total with Potomac. Following his release in May 2013, Holder hooked on with San Diego and finished out the season in the California League, then played in the 2013 Australian Baseball League before hanging it up.
Hagerstown 9 West Virginia 7 – 2012
• Hill 2⅔ IP, 7H, 7R, 5ER, 2BB, 0K, 0HR
• Meza (W, 7-1) 3⅓ IP, 0H, 0R, BB, K
• Holt (SV, 3) 3IP, 0H, 0R, 0BB, 3K
• Ortega 3-5, 2R, 3B, 2RBI
• Nieto 2-4, R, 2B, BB, RBI, SB, PB(14)
• Ramsey 2-4, 2R, BB, RBI
The Suns outslugged the Power, 9-7, to reclaim first place in the Sally League. Starter Taylor Hill struggled, allowing all seven West Virginia runs on seven hits and two walks and struck out none. Christian Meza and Greg Holt got the win and save respectively, combining for six and a 1/3rd no-hit, scoreless innings of relief with four strikeouts. Hagerstown pounded out 12 hits with Bryce Ortega leading the hit column with a 3-for-5 night and Matt Skole connecting for his league-leading 24th home run. Meza, who turns 30 today, would eventually make it to Potomac to open the 2013 season but was dropped back to Low-A and released in spring training in 2014. He pitched for two more seasons (2015-16) in the Mexican League before his release/retirement in 2017.
Staten Island 2 Auburn 0 – 2016
• Watson 5IP, 2H, 0R, 2BB, 5K
• Howard 2IP, 1H, 0R, 0BB, 2K
• Simonds (L, 0-3) 1IP, 3H, 2R, 1ER, BB, K
• Vilorio 2-3, CS, E, PB
• Neuse 1-4, 2B
The Yankees broke up the Star Trek convention on the scoreboard with two runs against the Doubledays in the bottom of the 8th as they took the series finale, 2-0, and the series, 2-1. Tyler Watson got his fifth no-decision with five scoreless innings and two hits and two walks allowed. The loss went to Kyle Simonds as the home team got to him for both runs on three hits and a walk in his single inning of work. Auburn matched Staten Island's six hits and three walks but were thrown out on all three stolen-base attempts (versus twice) and grounded into a double play (versus none). Vilorio would spend three summers as a backup catcher in Auburn (eh, there are worse places; see: Florida) before the Nats cut him loose in March 2018. He spent one season (2018) in the Frontier League, hitting .284/.372/.343 in 20 games.