From the Archives: July 14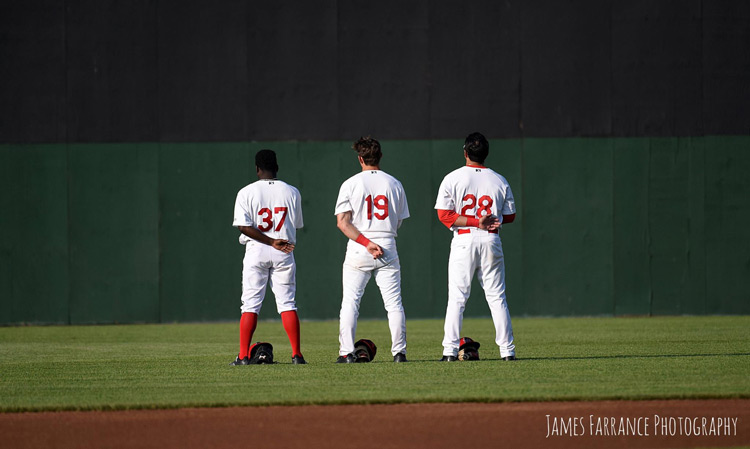 Finally, now something that seems more familiar: Washington putting players on the DL without explanation. Back we go into the morgu..er, archives.
Syracuse 6 Pawtucket 3 – 2018
• Milone (W, 6-4) 6IP, 5H, 3R, 3ER, 0BB, 7K, HR
• Adams (SV, 6) 1IP, 1H, 0R, 0BB, 1K
• Marmolejos 2-5, R
Yadiel Hernandez's two-run shot in the 4th tied it while Irving Falu's two-run single put the Chiefs ahead 5-3 as they won for just the second time on their current road trip, 6-3 over the PawSox. Tommy Milone was hit heard early but righted the ship and finished with a quality start, allowing all three Pawtucket runs on five hits (one HR) and no walks while striking out seven for his sixth win. Austin Adams was the last of five relievers to combine for three scoreless innings, working around a two-out single in the 9th for his sixth save.
Harrisburg 8 Richmond 6 – 2017
• T. Hill 6⅔ IP, 6H, 4R, 2ER, 0BB, 1K, 0HR
• Eitel (BS, 1; W, 3-2) 1⅓ IP, 2H, 2R, 2ER, 0BB, 1K, HR, WP, 1-1 IR-S
• Hernandez 3-4, 2R, 2B, HR, RBI
• Joseph 2-4, 2R, SF, 2RBI, CS
• Keller 2-4, R, RBI
The Sens rallied for two in the 9th and got a game closer to fifth place with an 8-6 win over the Flying Squirrels. Taylor Hill kept the ball in the yard but ran out of gas in the 7th as Richmond got three runs to pull within two at 6-4. Derek Eitel, who let in one inherited runner in the 7th, gave up the tying runs in the 8th. He would vulture the win as Jose "Orange" Marmolejos, Corban Joseph, and Dan Gamache all singled in the 9th inning rally. Yadiel Hernandez led the Harrisburg hit column with a single, double, and a homer. Hill would make it to the majors despite a high hit rate (10.2/9IP) and a low K rate (5.3). His career year was in 2014, in which he went 11-7 with an ERA of 2.81 and a WHIP of 1.12 in 25 appearances and 24 GS. He would be called up twice midseason (2014, 2015) and once in September 2014 to make a spot start as the Nats were prepping for the postseason. After leaving via free agency in 2017, Hill spent 2018 in the Giants system at AA and AAA and 2019 in the American Association and the Mexican League.
Potomac 7 Winston-Salem 2 – 2016
• Blackmar (W, 2-0) 7IP, 5H, R, ER, 3BB, 5K, WP
• Mendez (SV, 2) ⅔ IP, 0H, 0R, 0BB, 0K, 3-0 IR-S
• Keller 2-4, 2R, BB
• Read 1-3, 2R, 2BB, CS, PB(13)
• Marmolejos 2-5, R, 2B, RBI
Potomac got four in the 4th and two in the 5th and seven strong innings from Mark Blackmar in 7-2 win over Winston-Salem. Blackmar won his second start for the P-Nats with one run allowed on five hits and three walks while striking out five. Mario Sanchez struggled again and left the bases loaded with one out in the 9th for Gilberto Mendez, who cleaned up the mess to earn the bare-minimum save (five-run lead, tying run on deck). Jose "Orange" Marmolejos, Victor Robles, Max "For Those About To" Schrock, and Alec Keller each had two hits in the 11-hit attack on Dash pitchers while Raudy Read and Osvaldo Abreu both walked twice. Schrock would be traded in August 2016 to… wait for it… the Oakland A's for LHP Marc Rzepczynski. Sixteen months later Schrock was sent packing to St. Louis. The 25-y.o. has spent the past two seasons at AAA and has been invited Spring Training as a non-roster player for three straight seasons. He is currently among the 60-player pool for the Cardinals.
Hagerstown 2 Lakewood 0 – 2019
• Schaller (W, 1-1) 5IP, 2H, 0R, 0BB, 4K
• Cronin (H, 1) 1IP, 1H, 0R, 0BB, 3K
• Guillen (SV, 4) 3IP, 0H, 0R, 0BB, 2K
• Pineda 1-3, SF, RBI
• Mendoza 1-4, R
Three Suns pitchers combined to shut out the Blue Claws on three hits and no walks, 2-0. Reid Schaller went the first five and gave up two doubles and struck out four to win his first Low-A game. Matt Cronin gave up the third hits in the 6th but struck out the side for the hold, his first. Angel Guillen was perfect for three to earn his fourth save. Hagerstown was held to just four hits, with the first run scoring on an error and the second scoring on an Israel Pineda sac fly; both runs came in the top of the 1st
Auburn 10 Staten Island 7 – 2015
• Rivera 3+ IP, 6H, 4R, 3ER, 0BB, 3K
• Torres (W, 3-0) 2IP, 4H, 3R, 3ER, 2BB, 3K, 1-0 IR-S
• Borne (H, 1) 3IP, 1H, 0R, 0BB, 3K
• Me. Rodriguez 3-4, RBI
• Stevenson 3-5, 2R, 2B, SB
• Schrock 2-4, R, 2B, RBI
A five-run 5th dug the Doubledays out of a 7-3 hole as they took the series finale from the Yankees, 10-7. Mariano Rivera III was pounded for the second straight start, giving up four runs (three earned) on six hits over three-plus innings. Luis Torres was credited with the win but Grant Borne was the most effective reliever with three scoreless innings. Andrew Stephenson and Melvin Rodriguez both had three hits as Auburn notched 13 total on the night.