AFL/Offseason Update: Oct. 26, 2019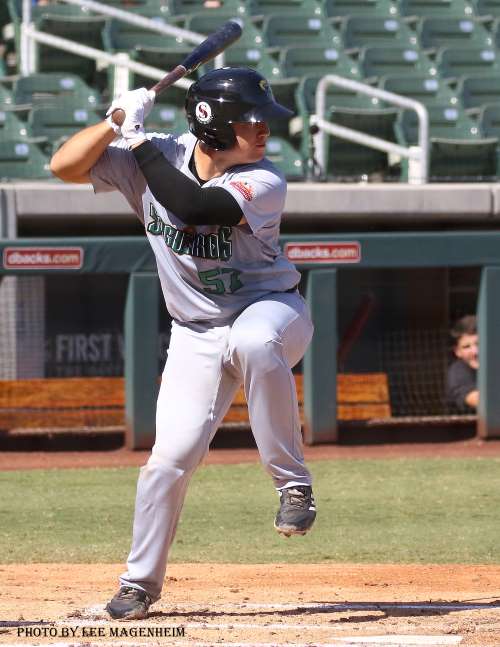 The Sagauros couldn't string together two in a row as they dropped the regular-season finale, 5-3.
It was a nearly full complement of the AFL Nationals as all four position players appeared in the seven-inning game.
Luis Garcia batted second and played short but went 0-for-4. He took part in two double plays but also committed an error
Nick Banks was the No. 5 batter and started in right field. He was 1-for-2 at the plate to improve his BA to .250
Cole Freeman pinch-ran for Banks and singled in his only plate appearance. Both he and Banks had no defensive chances.
KJ Harrison (pictured above) was the No. 8 batter and started behind the plate. He homered in the 2nd inning and went 1-for-3 overall.
Two Washington relievers appeared in the game but neither was effective.
Nick Raquet gave up two hits and two walks while getting four outs across the 2nd and 3rd innings. He left with one run in and two runners on in the top of the 5th. Raquet's final line was 1⅓IP, 2H, 3R, 3ER, 2BB, 1K.
After fanning the first batter he faced, Pearson McMahan let in both inherited runners on a two-out, two-run double. He would get out of the 5th and get two quick outs in the 6th but was lifted after giving up a second hit (single) and a walk. McMahan's final line was 1⅓IP, 2H, 0R, 1BB, 1K, 2-2 IR-S.
Today is the AFL Championship game, which will be streamed live at MLB.com/AFL. Sterling Sharp is not expected to start but may be available to relieve, along with Andrew Lee. Sharp last pitched on Sunday while Lee threw an inning on Thursday.
# # #
THE 2019 FRESNO GRIZZLIES
The Nats' AAA affiliate improved from 2018 to 2019… by one game. Much like the 2018 edition, they were able to tread water well into July before they went into tailspin, finishing the season with just 11 wins over their last 39 games.
Unlike years past, injuries were not to blame. Seven position players were able to play 100+ games (vs. three). While it took most of the season to get used to the softball/Nintendo offensive numbers, the fact remains the Grizzlies were a rounding error above league average: 5.88 R/G vs. 5.85.
To paraphrase the frequently quoted (and eminently profane) Earl Weaver, the reason why any team wins or loses is its pitching – and Fresno's sucked. Just one starter had an ERA below 4.00 (Kyle McGowin) and likewise for relievers with more than 10 appearances (Dakota Bacus). It doesn't get any better if you look at FIP.
We can only hope for the sake of fans at Chukchansi Park that the Nationals will do a better job of picking MLFAs to populate the 2020 roster, if they're to have any hope of getting either back into the International League or East of the Mississippi. Presuming, of course, the existing PBA isn't radically altered or (*gasp*) the Nationals ownership buys or invests in a team.
If you're skimming to see "the list," here you go:
| | |
| --- | --- |
| 1. Carter Kieboom, SS/2B | .303/.409/.493, 16HR in 109G; 6E in 62G at SS; 6E in 41G at 2B |
Folks interesting in seeing the full team statistics can find them here.