AFL Update: Sept. 19, 2019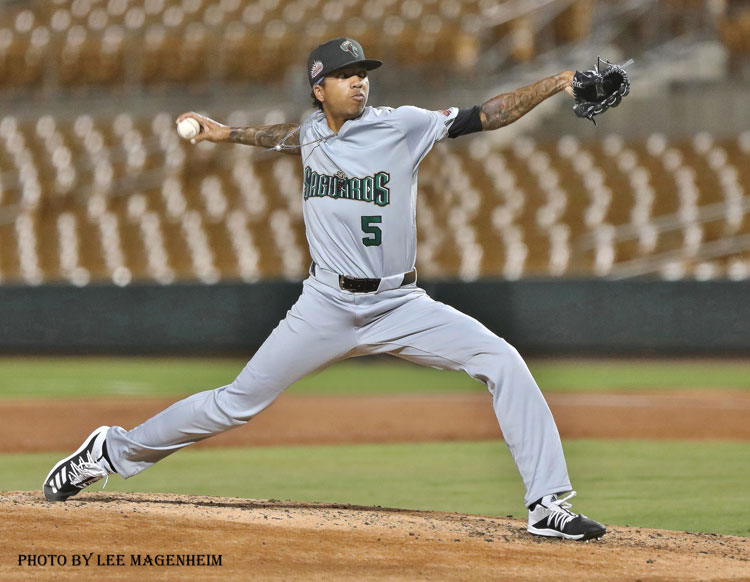 Seven Washington prospects accounted for the first seven innings pitched and seven of the ten hits as Surprise doubled up Glendale, 4-2 to take the AFL 2019 Opening Day game.
Sterling Sharp neutered the Desert Dogs for three no-hit innings, issuing a walk and striking out four, including the side in the 2nd beginning with catcher Tyler Stephenson to pick up the win. Andrew Lee kept the no-no going with two perfect innings, putting down by way of the K.
Nick Raquet lost the no-hitter with a single to the first batter he faced but kept the shutout intace with two more scoreless, working around the hit in the 6th and an error in the 7th to push the combined line with Sharp and Lee to 7IP, 1H, 0R, 1BB, and 9K. Raquet and Lee were both credited with holds.
All four Nats position players were in the lineup, led by the 19-y.o. Luis Garcia, who did not disappoint. Garcia went 4-for-5 with a double, scored twice, stole a base, and had two assists at short – includinga 1-6-3 DP started by Sharp to end the 1st inning. Our man on the ground in the Copper State (and photographer for us since 2012) described the one time Garcia didn't reach as a check-swing flyout to the wall in right-center.
Cole Freeman started along side Garcia at second base but was hitless in five AB's but had two assists and a putout in the field.
Jakson Reetz started behind the plate and went 2-for-4 with two whiffs and a Victor Robles. Nick Banks manned left field and went 1-for-4 with two balls handled in the outfield (single, lineout).
The Saguaros host the Scorpions tonight in Peoria. Both teams will be playing 2019 "away" as their "home" fields undergo renovations.